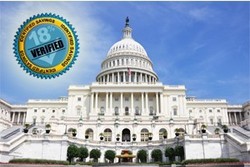 While we expected the competitive procurement auction process to produce lower prices, the overall size of the disparity was greater than we anticipated.
College Station, TX (PRWEB) October 11, 2010
According to a new economic study which analyzed equipment cost reductions achieved by MEMdata for hospitals in 41 states, medical facilities could save up to $37.5 billion each year on equipment and supplies by using the eRFP auction process utilized by MEMdata. The study compared MEMdata equipment pricing to contract pricing methods commonly used in the healthcare supply chain. The transaction database contained almost 20,000 types of new equipment ranging from thermometers to CT scanners.
MEMdata's eRFP auction process is unique in healthcare because it ensures suppliers are free to compete for equipment sales opportunities, rather than being barred from competition by exclusive contracts. MEMdata archives resulting transactions in a benchmark database. As a condition to providing data access for the study, MEMdata required confidentiality of pricing sources.
Key Facts and Findings from the Study:

Authors – Dr. Robert E. Litan, Senior Fellow in Economic Studies at the Brookings Institution and vice president of Research and Policy at the Kauffman Foundation; Dr. Hal J. Singer, Managing Director at Navigant Economics and prior adjunct professor at the McDonough School of Business at Georgetown University.
Data Source - Hospitals in 41 states are represented in the database, containing approximately 20,000 equipment items, including both medical and non-medical assets.
Prices - Beginning prices came from GPO, IDN and some GSA contracts, usually with further hospital negotiations. The data set also includes numerous group buys and other special promotions and represents all national GPOs. These prices were then compared to those achieved by MEMdata's eRFP process, which the authors refer to as an aftermarket auction.
eRFP - An electronic Request For Proposal (eRFP) is essentially an auction in which equipment suppliers are proactively notified of sales opportunities and free to competitively bid to earn a hospital's business. Hospital personnel have all technology choices available, with all sourcing information provided via secure online account. MEMdata archives incoming proposals in a database used to benchmark quotations, verify competitive pricing and support other services.
Savings Rate - MEMdata secured savings on 77% of all projects assigned, providing positive savings to hospital clients in a clear majority of transactions.
Savings Percentage - The eRFP process achieved average hospital savings of 18% in 2010, with confirmed savings of $11,500 on average for every equipment item sent to MEMdata.
Hospital Size - Hospitals ranging from critical access facilities to teaching systems to IDNs were included. Hospital size did not influence the percentage of savings achieved.
National Implications – The study concludes that if applied nationally, MEMdata's eRFP process would save U.S. Hospitals $37.5 billion annually, including savings to U.S. taxpayers of $17.25 billion per year.
Co-author Dr. Hal Singer commented on MEMdata's performance. "The figures from MEMdata, showing their eRFP auction prices and contracted GPO prices on the same equipment, gave us an excellent cross section of the U.S. hospital industry," he said. "While we expected the competitive procurement auction process to produce lower prices, the overall size of the disparity was greater than we anticipated."
MEMdata CEO and Founder, Bob Yancy, issued a statement concerning the study and its findings. "I believe this study is as much a positive reflection of the business performance of MEMdata, as it is a recommendation to amend current contracting processes for equipment. It is gratifying to have our business model validated in this way by such esteemed economists," he said. "The study clearly establishes we have the best procurement method, at the perfect time, to assist our hospital clients."
About MEMdata - Founded in 2000, MEMdata processes capital equipment purchases for hundreds of medical facilities through its proprietary eRFP database. In addition to the best equipment pricing in the nation, MEMdata provides equipment planning for construction and renovations, life cycle cost analysis of capital equipment investments, price benchmarking, budgeting and a full range of capital equipment tools and services that are guaranteed to be self-funding for hospital clients. MEMdata is vendor neutral, giving all suppliers a full, fair and free opportunity to compete, with no fees of any kind required for vendor participation.
For information contact:
Scott Jennings
Corporate Communications
Scott(dot)jennings(at)memdata(dot)com
(979) 695-1950
###