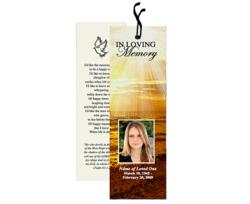 This is the perfect tool for families to use to create such memorial items like bookmarks, cards, programs and prayer cards.
(PRWEB) September 10, 2012
Creating a memorial for a loved one doesn't have to be complicated. It can be very easy to do if one chooses the right tools. Given the shorter window of time for funeral planning, it may not always be feasible to set enough time aside for creating such keepsakes.
It is important for families however, to create a tangible item as a remembrance of the final celebration of life. The Funeral Program Site has specialized in creating memorials that families and funeral homes can create very quickly and easily. This company is the largest manufacturer of templates for funeral printed materials. The templates not only enable the customer to produce a professional looking keepsake but it also save time and money.
A large selection of memorial bookmark templates have recently been added to their line of templates compatible with Microsoft Word, Publisher, OpenOffice, and Apple iWork Pages. The inventory is the largest online and customers are able to put it together or utilize the company's professional typesetting services.
"This is the perfect tool for families to use to create such memorial items like bookmarks, cards, programs and prayer cards. It will only take minutes to achieve what looks like it would have taken hours to do by a professional designer," notes Carole Galassi, CEO and Creative Director of this popular online resource.
Memorial bookmarks are a great practical idea for distributing at a funeral service or visitation service. Often families like to hand out a little favor or keepsake to those who attended the ceremony as a way of keeping their loved one's memory alive. The memorial bookmark has been a popular choice as an alternative to distributing prayer cards.
The new memorial bookmark templates provided by The Funeral Program Site are pre-made layouts with a lovely background and formatted to print four bookmarks per sheet of letter size paper. This enables the customer to print less since there are more on one page.
"Customers love our memorial templates to create bookmarks! We cannot stock our inventory fast enough for the amount of requests we receive for this type of end product," shares Rose, a customer service representative.
The Funeral Program Site continues to expand their new designs and layouts weekly, thereby earning a reputation as the largest online resource for funeral related templates. Visit the online store and view this new product line at http://www.funeralprogram-site.com/memorial-funeral-bookmarks.