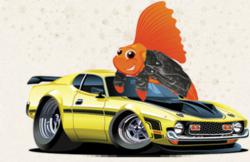 I absolutely love cooking food outside, on the grill. There's something very nostalgic about it.
Los Angeles, CA (PRWEB) May 18, 2012
RoadFish.com men's lifestyle and finance magazine today shared tips for having a successful Memorial Day barbecue, from where to buy meat to which sides are best for grilling. RoadFish.com also gives a nod to an article by Consumer Reports, which gives advice on purchasing a budget-friendly grill that still cranks out quality food if you happen to be in need of a good gas grill for the upcoming holiday weekend and summer grilling season.
RoadFish.com shared advice from a Komo News article by Consumer Reports about which grills can turn out delicious food without breaking the bank. The testers at Consumer Reports tested close to one hundred grills, which cost anywhere from $100 to $2,500 apiece, to see where you can get the most bang for your buck without sacrificing any flavor or amenities. Testers performed several different experiments to see how each grill stood up, some of which included cooking food to check the quality of heat distribution. Dan DiClerico of Consumer Reports is quoted saying, "To see how evenly a grill cooks at lower temperatures, testers grill salmon steaks as well as chicken breasts. Now both those foods can easily dry out if the grill gets too hot." Testers also grilled steaks, to see which of the grills has issues with flare-ups. Other tests were done sans food, but rather with a Thermocouple, which measures the evenness of the heat being distributed along the surface of the grill.
Consumer Reports found that some of the highest-priced grills ranked top in the performance department, but still found several quality grills that stood up to a challenge that are fairly easy on the wallet. DiClerico recommends the Char-Broil Classic, which can be purchased at Home Depot for $200. DiClerico states, "It rated excellent for low-temperature cooking, and grilled up a very good steak, too." Another top-ranked, low-cost grill was the Brinkman Grill model 810-2545 which Walmart carries. Consumer Reports that it's a bit pricier than the Char-Broil Classic, but a great buy nonetheless.
RoadFish.com's Senior staff writer is quoted as saying, "I absolutely love cooking food outside, on the grill. There's something very nostalgic about it, especially if you're having a party centered around barbecuing. Barbecues take me far back with childhood memories. I am not hosting the Memorial Day barbecue this year, but you're likely to still find me around the grill, helping the host do up burgers, dogs, steaks, and whatever else is on the menu."
RoadFish.com started off its tips for a successful barbecue by stating that one smart idea is to make any bash a potluck. In this way, it takes pressure (both time and money) off of the host so they can focus on the main dish. It also gets everyone involved, and can be a lot of fun for those that are participating to share a special recipe and see others enjoying their food. RoadFish.com's Senior staff writer is quoted as saying, "I absolutely love going to potlucks or hosting them. How else do I get to have Aunt Mary's famous potato salad, Grandma's pepperoni cheese bread, and Uncle Sal's antipasto platter all in one place? Plus it's a blast making food for everyone to enjoy. It gets the whole family involved, and brings everyone together in a whole other way."
RoadFish.com also recommends getting your meat in bulk, from someplace like Costco of another wholesale store. Whatever you don't use, you can always freeze for later, and you're likely to get more for your money than at a regular grocery store. One of Costco's amazing deals that RoadFish.com highlighted is their 6-pack of 7 oz Applewood Bacon-wrapped Beef Filets, for only $15.60. If you're sticking with good ole fashioned burgers, Costco sells everything from frozen Angus beef patties to basic quarter pounders from $15-$26 for three pounds up to ten pounds of meat. Not to mention a 24-pack of hamburger buns for under $4.
And lastly, RoadFish.com recommends using sides (if you are preparing both the entrée and sides dishes) that you can grill as well. This eliminates the need for extra food prep in advance, and the chef can put everything on the grill together and get bac to the bocce ball or volleyball game faster. RoadFish.com loves grilling asparagus and corn on the cob as two delicious and easy options. The men's lifestyle and finance magazine urges grill masters to remember to soak ears of corn in water for at least 15 minutes before putting them on the grill, if you are opting to grill the corn husk-on. For simple but impressive (and scrumptious) dessert, one of RoadFish's favorite ideas is cutting an apricot in half, coating it in sugar and cinnamon, grilling it for a few minutes and then topping it off with a scoop of vanilla ice cream.
Memorial Day is a federal holiday that originated to commemorate the fallen Union soldiers of the Civil War, but has since been extended as a holiday to honor all American servicemen and servicewomen who have passed away serving the United States. Memorial Day is celebrated annually on the last Monday in May and is the unofficial mark of the start of summer. As a fun fact, Memorial Day used to be known as "Decoration Day."
About RoadFish.com
RoadFish.com is an online men's lifestyle and finance magazine targeted toward men in their 30's and 40's that have already attained a moderate level of success in life, and are striving toward more. It goes over current events of interest to this group, such things as exciting adventures, consumer interests, and the US economy as well as ways to make more and save more money. It is a publication owned by Purpose Inc.