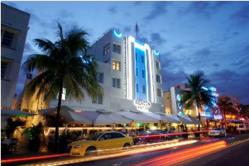 Added Mr. Regalado: "And of course, with the wide range of Memorial Day Weekend events taking place throughout the area, guests who take advantage of our extended stay specials will have even more reasons to smile."
Miami Beach, FL (PRWEB) May 19, 2013
The Beacon South Beach Hotel, a renowned art deco luxury boutique hotel and the only South Beach hotel designated by the NBA's Miami Heat as an official "place to stay," has launched a special 15% offer for Miami Heat and Indiana Pacers fans who are eagerly awaiting the start of the Eastern Conference Finals at nearby AmericanAirlines Arena starting on Wednesday, May 22.
In addition to the special savings on their elegantly appointed room, fans of either team -- or those who simply want to experience the incredible excitement that only the NBA has to offer -- will also receive complimentary transfers to and from AmericanAirlines Arena when booking with promo code HEAT.
Plus, guests from across the country and around the world who are planning to take in the sun, sand and sizzle of South Beach over the Memorial Day weekend can take advantage of the Beacon South Beach Hotel's inviting extended stay discounts:

Stay 3 nights and save 15%
Stay 4 nights and save 20%
Stay 5 nights and save 25%
Just some of the many Memorial Day Weekend events taking place include:
The Best of the Best International Music Festival
The Miami Nice 2013 Yacht Party
Memorial Day Dive
The Battle Bowl Celebrity Rap Battle
…and much more
"The Miami Heat are in for some stiff competition this year as they take on the Pacers, who have a long tradition of excellence," commented Chris Regalado, Beacon Hotel's Revenue Manager. "We don't know who'll win this tough series, but we know that every second of it will be incredibly exciting, and that the fun will start long before tip-off, and last well into the night! It's going to be a series to remember for Heat fans, Pacer fans, and people of all ages who want to see basketball played at its highest level."
Added Mr. Regalado: "And of course, with the wide range of Memorial Day Weekend events taking place throughout the area, guests who take advantage of our extended stay specials will have even more reasons to smile."
Fans ready to make some noise and guests who are planning on experiencing the many Memorial Day Weekend events in the area, can check room availability and conveniently book their stay online by visiting: http://www.beaconsouthbeach.com/
For more information or media inquiries, contact Christopher Regalado, Revenue
Manager, at chris(at)beaconsouthbeach(dot)com or 305.674.8200.
About the Beacon South Beach Hotel
Renowned among chic and stylish Miami beach hotels, and located in the heart of South Beach, the Beacon South Beach Hotel is a Boutique Art Deco Hotel just steps away from all of the best entertainment that South Beach has to offer: Sun, Sand and Sea. With the clear blue waters of the Atlantic directly across its front doors, the Beacon South Beach Hotel offers the perfect ambiance for a breathtaking beach vacation, featuring world-class amenities, an exquisite restaurant and tantalizing nightlife. Guests enjoy an extraordinary gastronomic experience with live music entertainment that will elevate their spirits with the melodies that fill the air. With an array of beach side water sports, state-of-the-art fitness center and highly advanced business center, the Beacon South Beach Hotel is a full-service boutique South Beach Hotel.
Learn more at http://www.beaconsouthbeach.com
###