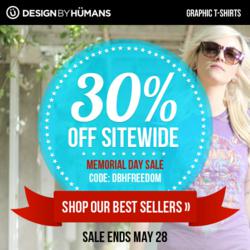 Save 30% with Coupon Code: DBHfreedom this Memorial Day Sale
Chico, Ca (PRWEB) May 24, 2013
Design By Humans is welcoming the summer with a 30% off Memorial Day sale with coupon code DBHfreedom. With the continuing expansion of Collective artists stores and new designs from the daily contests, there are now over 1500 t shirt designs to choose from.
The Memorial Day sale will be live from Thursday May 23rd to Tuesday May 28th. With the 30% off sale a normal price of a Design By Humans tee goes from $22 dollars to $15.40. There is free shipping on all orders over $75 for the US, and a brand new service with FedEx International to make international shipping a breeze. Here is the old and new shipping rates for international orders:
1 Shirt
New - FedEx International – $4
Old - USPS – $13.75
2 Shirts
New - FedEx International – $5.83
Old - USPS – $15.90
This all-inclusive sale includes contest winning shirts, DBH Collective and already on sale tees. The Memorial Day sale is a great way to check out the DBH Collective with custom t shirt colors. There is a selection of blues, reds, blacks, any many more to keep your t shirt collection looking diverse with multiple color options. The Memorial Day sale also includes all the contest winners, including top 50 best graphic t shirts.
What's new at Design By Humans?
DBH Collective
There are now over 50 different t shirt designers in the DBH Collective. Each artist has a unique and diverse style. There is the retro style of Dzeri29, to the watercolor animal portraits of Kdeuce, the funny comics from Wotto and intriguing line work from Qetza.
Community and Blog
The community has been active asking for opinions, commenting on new designs, and researching new design tools. Check out the blog and artist interviews with RonCabardz and Megan Lara. Get the scoop on how to win a t shirt contest and capture the $1,000 cash prize. There is a lot of useful information about t shirt design, new technology and fashion trend information.
DesignByHumans.com
Design By Humans is welcoming in the summer with the Memorial Day Sale, for a great chance to receive discounts on your favorite tees. Now is the time to shop through the different categories, artists and designs. With over 1500 different designs and custom t shirt color options you are bound to find something unique. Remember to use the discount code: DBHfreedom for 30% off Design By Humans from May 23rd to May 28th.