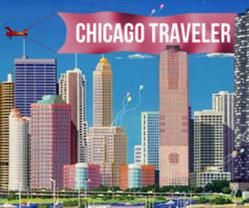 Chicago, Illinois (PRWEB) May 15, 2013
Many people consider Memorial Day weekend the kickoff to summer. The beaches open back up and the warmer temperatures are welcomed after a long and cold winter. Spend Memorial Day Weekend 2013 in Chicago and check out all of the events, shows, games, tours and contests! ChicagoTraveler.com announces the best things to do in Chicago this Memorial Day!
Chicago Memorial Day Events
The Chicago Memorial Day Parade has walked the streets of Chicago since 1870, and is one of the oldest and largest Memorial Day Parades in the US. The parade will begin at noon on Saturday, May 25th and travel up State Street. Prior to the parade, the Wreath Ceremony will be held at 11am, to honor all of the men and women who fought in Iraq and Afghanistan.
Boat Tours and Fireworks Cruises
The beaches are opening this weekend, but that's not the only way to get out and enjoy the water. Hop aboard one of the boat tours, architecture cruises or water taxis at any time of day for a fantastic and unforgettable sightseeing trip in Chicago. Many of the boat tours in Chicago run all day long, with entertaining guides who will teach you all about the city. These boat tours can be fast and adventurous or completely luxurious, and you can enjoy a boat tour or sightseeing cruise in Chicago by day, at sunset, or at night. This is a particularly good weekend (as is every weekend during the summer) because the night cruises provide a great view of the Navy Pier fireworks show!
Festivals in Chicago Memorial Day Weekend
The Belmont-Sheffield Music Festival (May 25-26) goes from noon to 10pm each day on N. Sheffield. Nothing quite says summer in Chicago like a music festival, and this is not the only one this weekend! Also in Chicago on Memorial Day Weekend is EDC. Join in at the Electric Daisy Carnival Chicago Friday thru Sunday at Chicagoland Speedway. Check out all the concerts in Chicago this weekend and afterwards.
Memorial Day Weekend offers something extra special for foodies too, which is the Red, White and BBQ Challenge at Westmont Chicago. Take in 3 days of free live music, the best BBQ in the Midwest, amateur and professional BBQ competitions, raffles, prizes and more! This is an unforgettable way to kick off the summer and warm that grill up for the season to come.
If sightseeing in Chicago is more of a priority though, it's possible to enjoy the flavors and the attractions in one afternoon. Check out some of the Chicago food tours, which take travelers around to some of the best restaurants in town, and gives them a unique and fun guided tour of the top attractions along the way. Chicago food tours can be enjoyed on bike, on foot, on a Segway or a bus, and they are well worth an afternoon to indulgence.
Need help getting there? The variety of Chicago transportation options makes it easy to get to any of these events, even on the holiday!
About ChicagoTraveler.com:
Chicago is one of the top vacation destinations in America famous for their annual events, popular foods, architecture and top sports teams. ChicagoTraveler.com guides travelers to all the best things to do, top places to eat and deals on the best places to stay in Chicago. Lizz Riggs, editor of ChicagoTraveler.com, can help travelers find all the best things to do, places to stay and deals to take advantage of on their next trip.