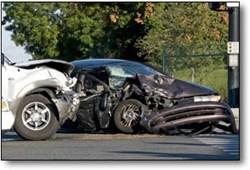 St. Louis, MO (PRWEB) May 25, 2013
Memorial Day weekend historically results in an increased number of motor vehicle accidents on America's roads. As the summer travel season begins and Americans take to the highway, the number of car and truck accidents that occur will unfortunately rise. Holiday weekends are dangerous times to be on the road, with Memorial and Labor Day weekends resulting in the highest number of fatalities per day, approximately 130 deaths per day occurred during both Memorial and Labor Day weekends in 2010 according to the National Highway Traffic Safety Administration, when there were 397 fatalities during Memorial Day weekend, 40% of which were alcohol related. The Onder Law Firm, St. Louis-based personal injury lawyers that handle severe injury and death cases nationally, wish to remind drivers to be safe this Memorial Day weekend and avoid becoming the victim of an automobile accident. Even a car accident that does not result in injuries will ruin any driver's vacation or travel plans. Auto accidents that result in injuries can have devastating life-long consequences.
As St. Louis auto accident lawyers, the attorneys at The Onder Law Firm are all too familiar with the carnage caused by motor vehicle accidents and the difficulty those who are severely injured often have resuming their lives. One constant in the recovery from an auto accident is making sure those injured receive the money to pay for their medical expenses and lost wages while they are healing. The Onder Law Firm's car accident website explains the difficulties injured persons often face when trying to reach a settlement with an insurance company, including the tactics insurance companies often use to pay out as little as possible and the secrets insurance companies don't want those making an auto accident claim to know. The Onder Law Firm handles auto accident claims and other injury cases on a contingency basis, meaning they only receive compensation if they win for their clients. The Firm provides no-cost, no-obligation attorney consultations to those who have been injured in a car or truck accident.
The Onder Law Firm welcomes inquiries from other lawyers in regards to handling St. Louis car accident claims, either as co-counsel or on a referral basis.
About The Onder Law Firm
Onder, Shelton, O'Leary & Peterson, LLC is a St. Louis based personal injury law firm handling serious injury and death claims across the country. Its mission is the pursuit of justice, no matter how complex the case or strenuous the effort. Onder, Shelton, O'Leary & Peterson have represented clients throughout the United States, and other firms throughout the nation often seek its experience and expertise on complex litigation. It is a recognized leader in products liability cases such as window blind cord strangulation and pharmaceutical litigation. The Onder Law Firm offers information pertaining to St. Louis personal injury claims and a free attorney case review at http://www.onderlaw.com.