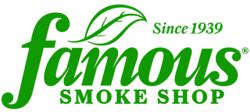 Our sale is designed to provide them with the best value for their hard-earned money.
//www.famous-
Famous Smoke Shop is the nation's #1 discount retailer of cigars online, providing smokers with the web's best cigar selection, expert customer service, competitive pricing, and a wide variety of special offers and ways to buy cigars. As a customer-oriented company, Famous Smoke Shop frequently sends sales, cigar discounts, and coupons via e-mail, Facebook, Twitter, printed catalogs and other channels to their customer base.
The company recently launched their annual Memorial Day sale, placing over 350 of their best selling items on sale and featuring discounts on many premium cigars that are rarely offered below their regular prices. The sale provides shoppers with savings on widely known national brands like Arturo Fuente, CAO, Romeo y Julieta, and Oliva; as well as discounts on many of their exclusive brands. A number of the company's customized cigar samplers are on sale as well.
In addition to the specific discounted items, cigar smokers wishing to purchase other products will also find a variety of site-wide coupons available that are applicable to any purchase. These coupons provide shoppers with discounted pricing, free shipping, or other bonus items like sampler packs or even boxes of cigars with their purchase.
"Smoking cigars and celebrating Memorial Day go hand-in-hand," said Famous Smoke Shop Vice President of Operations Michael Vandenstockt. "For many, it's the first real opportunity to smoke cigars in the warm summer weather. Outdoor gatherings like barbeques and pool parties are perfect places for people to relax and enjoy a smoke. Whether a customer is looking to stock up for the holiday, or replenish their collection after sharing with friends over the long weekend, our sale is designed to provide them with the best value for their hard-earned money."
With sale items starting under $10 and ranging up to high-end boxes that cost over $190, there are discounted products available for any budget. The wide variety of different cigars available ensures that, no matter what the specific preference of the smoker, that person will find a product they enjoy.
People interested in learning more about the Famous Smoke Shop Memorial Day Cigar Sale or viewing the sale items should visit Famous-Smoke.com and click the Memorial Day Sale banner, or call their customer service department at 800-564-2486.
About Famous Smoke Shop
Famous Smoke Shop is the nation's #1 discount retailer of premium cigars online, offering one of the largest selections of handmade cigars, machine-made cigars, cigar humidors and accessories. Famous offers the web's lowest prices on a wide selection of cigar brands including Acid, Macanudo, Romeo y Julieta, Ashton, Padron, Oliva and Perdomo cigars, and many more. Famous also offers a free monthly catalog and has been recognized as a Bizrate© Gold Honoree for excellence in customer service, product selection, customer satisfaction, and per-dollar value, as well as the Bizrate© Circle of Excellence Award for the fourth year in a row.