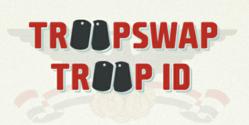 Businesses who appreciate our struggles and honor them by providing military discounts are heroes in their own right.
Washington, D.C. (PRWEB) May 24, 2013
In honor of Military Appreciation Month and Memorial Day 2013, 61 different companies are offering a military discount through TroopSwap and Troop ID this May. Now in its 14th Year, National Military Appreciation Month and Memorial Day are observed each May as a way to honor, remember, recognize, and appreciate all the U.S. Armed Forces. These yearly occasions serve as a reminder of the sacrifices made in the name of freedom, and offer a timely way for businesses to connect with the military community. Retailers large and small are making the effort to demonstrate their gratitude to the men and women of the United States Armed Services with flash-sales on TroopSwap and year-round offers available through Troop ID.
Local favorite Red, Hot & Blue restaurants, and patriotic online retailers iChameleons, BlingBerry, and MG Direct offered popular flash-sales on TroopSwap.com. Companies like Brooks Brothers and JustKidsStore have partnered with Troop ID to offer ongoing discounts as a thank you to those who serve.
These appreciation discounts mean a great deal to the military community. United States Marine Corps military spouse Holly Reilly says, "Businesses who appreciate our struggles and honor them by providing military discounts are heroes in their own right. However large or small, it always reminds me of the sacrifice my husband and I are making and fills me with a sense of pride."
Companies that offer military discounts also reap the rewards of customer loyalty:
"I am such a loyal consumer because of military discounts," notes Caitlin Horn, a U.S. Navy spouse. "A business offering a military discount signals to me that they sincerely respect and appreciate all that my husband and I and the rest of our community do for our country. I will gladly drive out of my way to patronize businesses that give military discounts over businesses that do not."
In the past, it was difficult for stores to offer military discounts through their online channels because there was no way to verify a shopper's military affiliation. With Troop ID, veterans, retirees, active duty service members, military spouses, and dependents can register their credentials to securely receive discounts and benefits both in-store and online. TroopSwap and Troop ID make it possible for businesses to connect with the entire military community, not just those active duty service members who carry ID cards. By removing the barrier of verification issues, businesses can now easily offer military discounts in honor of events like Memorial Day and Military Appreciation Month. With Troop ID's secure authentication process, retailers can be sure that they are offering benefits to those who have earned them, and members of the military and their families can connect with those who want to reward a life of service.
About TroopSwap and Troop ID
Founded by two Army Rangers, our team is dedicated to working with reputable, military-friendly businesses to bring special deals and everyday discounts to verified active service members, veterans, and their families. TroopSwap provides hand-selected daily deals and military discounts for businesses near you. Troop ID is the first technology platform that verifies military or veteran status online, enabling top brands to securely deliver benefits and discounts to the military community through e-commerce. Troop ID acts as a digital ID card so members of the military community can access discounts, veteran skill training vouchers, and government benefits safely and securely online. To learn more, please visit http://www.TroopID.com and http://www.TroopSwap.com.