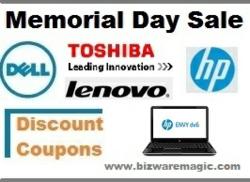 Online shoppers can find great laptop and desktop PC offers and discounts from major retailers this Memorial Day.
(PRWEB) May 27, 2013
While everyone knows the Memorial Day Holiday has a long tradition of respecting and remembering those who have given the ultimate sacrifice for their country, but in recent years, this event has taken on another purpose. Rightly or wrongly, the Memorial Day weekend and the following week has become the time many major retailers offer some great discounts and sales.
This Memorial Day Holiday is no exception and the Bizwaremagic.com site has compiled some of the best offers from Dell, HP, Toshiba And Lenovo on one convenient online page. Potential shoppers can get great bargains and savings just by using the discount links and/or supplying a coupon code at checkout.
Among this year's offerings, prudent shoppers will find the following deals from respective retailers.
Dell: Customers can get 32% off on popular PCs and electronics, plus get an extra $50 off PCs priced at $599 or above. Buy a Dell Inspiron 15 laptop computer for only $299.99 or try the Inspiron 15 with the 3rd Generation Intel Core i3 processor and touch screen for $499.99. Other sales include the Inspiron 17R laptop for $699 and get the Dell UltraSharp U2913WM 29" ultra-wide 1080p monitor for around $599. Plus, other offers.
Hewlett-Packard: Get $10 off when you spend $50 on select HP products, get $20 off when you spend $100 or greater. Also get an extra $100 instantly off on select customized HP Laptop or Desktop PCs priced at $999 or greater. Save $150 instantly on the HP ENVY dv6t or dv7t-7300 Quad laptop. Save $200 instantly on the HP ENVY h8-1540t and get $250 instantly off on the Pavilion HPE h8-1360t. Plus, many more offers.
Toshiba: Get a FREE carrying case with the purchase of any pre-built Satellite C-series laptop. Save $70 off the Satellite C850D-ST3NX1 pre-built laptop and receive a 16 inch carrying case at no extra cost. Get $250 off select prebuilt Toshiba Satellite laptops with prices starting at $329. Get $100 off select Satellite C-Series custom built laptops and $170 off select Satellite L-Series custom built laptops. Plus other deals.
Lenovo: Save $500 off IdeaPad Y400 and 25% off ThinkPad T430 Affiliate Exclusive Bundle. Get 25% off ThinkPad T430s and $230 off Lenovo G580. Plus, other offers including $480 off the IdeaPad Y500 laptop.
Many of the above offers and discounts come with Free Shipping so see the retailers' official site or sites for all terms and conditions. Most of these Memorial Day Sales are valid from May 23rd to May 28th or even June 1st. Again, check with the official sites for exact times and details.
The special Memorial Day Coupons Page can be found here: http://www.bizwaremagic.com/cheap_laptops.htm or download our comprehensive free laptop buying guide here: http://www.laptopcomputerguide.org All products/companies mentioned above are registered trademarks of their respective owners and companies.