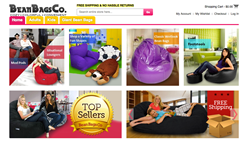 The team at Bean Bags Co. knows that a handsome bean bag chair can liven up any room stylishly and comfortably.
Orange County, CA (PRWEB) May 26, 2013
Bean Bags Co., a leading provider of bean bag chairs for adults and bean bag chairs for kids, is announcing a huge Memorial Day sale on bean bag chairs. Site wide, all prices will be slashed up to 40%. All Memorial Day weekend, customers will be able to shop for bean bag chairs and casual furniture at a reduced price. This wallet friendly option includes free shipping with no promo code needed to take advantage of these stellar deals. Customers are encouraged to shop now for great deals and free shipping.
When it comes to finding oversized bean bag chairs, giant bean bags, and kids bean bag chairs, Bean Bags Co. has one of the widest selections of colors, styles, and fabrics available. Available in solids, prints, themes, and a variety of fabrics, these are not the outdated bean bag chairs that customers have seen in the movies. Instead, these are modern and handsome looking bean bag chairs that are sure to add to any room's aesthetic.
The team at Bean Bags Co. knows that a handsome bean bag chair can liven up any room stylishly and comfortably. No longer just an accessory found in dorm rooms, today's bean bag chairs are often made of high quality fabrics and beautiful colors. These comfortable and stylish furniture replacements are the perfect addition to family game rooms, modern living rooms, and kids' rooms.
Children will love the versatility that a bean bag chair for kids can offer. These stylish and colorful bean bags can become not only a treasured place to read or color, but a fun naptime spot or front row seat for movie time. Easy to clean and care for, bean bag chairs are the perfect addition to any child's room.
Many adults are pleasantly surprised just how comfortable and plush a bean bag can be. Bean bag chairs for adults have evolved far beyond the old feeling of sitting on beads. Today's bean bags often create the sensation of being enveloped in a soft comfortable pillow. Easy to transport and clean, bean bags are the perfect way to add seating to any room. Stylish enough to blend comfortably with designer furniture and casual enough to work with dorms, garages, and apartments, bean bags are the most versatile furniture replacement.
Consumers looking to add seating to a room, enhance comfort, and increase their home's sense of style are encouraged to shop Bean Bags Co.'s Memorial Day sale now. With prices this low, early shopping is recommended to ensure access to top sellers. All orders will receive free shipping no promo code needed.
About Bean Bags Co: Bean Bags Co. is a trusted provider of adult bean bag chairs, kids' bean bag chairs, and giant bean bag chairs. Featuring everyday low prices, huge selections, and quality furniture, Bean Bags Co. is the ideal resource from which to purchase bean bags for every occasion and need. Consumers are encouraged to visit http://www.beanbagsco.com for more information.
SEO Services by Orange County SEO