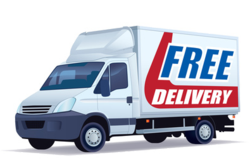 but now we're taking it a step further and eliminating the shipping costs altogether
Incline Village, Nevada (PRWEB) July 27, 2012
Chuck Harmon, Managing CEO of the Charles C Harmon Co LLC today announced a limited time offer of a free premium mattress protector and free shipping with any memory foam mattress purchase during the month of August. "Protecting your mattress investment with a mattress protector keeps it safe from spills and the easy laundering makes it easy to sanitize your sleep surroundings. Also, shipping is a major part of the price of a mattress so we wanted to eliminate that cost for our customers," said Harmon.
The purchase of a quality memory foam mattress is a major expense nowadays. Shipping is a big factor in mattress costs and, therefore, in the overall price of any mattress you buy. Also, guarding mattress from spills, incontinence and other harmful incidents makes a lot of sense. For this reason, the Charles C Harmon Co LLC has announced a limited time offer of free shipping and a free premium mattress protector with any mattress purchased from their Memory Foam Mattress Store website during the month of August, 2012.
With the cost of gasoline, diesel and other petroleum products being so high, the shipping cost of every item that's purchased nowadays is directly impacted. Mattresses are no exception and given the size and weight of a typical mattress, consumers are paying a lot of money for transportation costs, whether the mattress is shipped directly to them or to a store nearby.
Many consumers don't realize, on a conscious level, that they pay all the costs associated with the manufacture and delivery of the products they buy aside from any profit paid to the retailer.
"We have always tried to keep our shipping costs to a bare minimum by shipping factory direct but now we're taking it a step further and eliminating the shipping costs altogether," said Chuck Harmon, Managing CEO. "Shipping costs can be as much as $300 to $400 per mattress and that's very significant to most consumers. Eliminating this cost is one goal of this special offer."
Another thing for consumers to consider, when making a sizable investment in a mattress, is the protection of that investment. Placing a mattress protector over any mattress is the best way to protect it. When the mattress is made from memory foam there are a couple of extra considerations.
1. Memory foam isn't as easy to clean up if you allow liquid to penetrate it
2. Temperature sensitive memory foam can't be covered with most mattress protectors
"The premium mattress protector that we're offering in August was developed specifically for use with memory foam and won't affect the temperature sensitive material in the mattress. A normal mattress pad or protector will make the temperature sensitive material in even the best memory foam mattress feel much firmer."
Since keeping your sleeping area clean and sanitary is also desirable, Harmon noted that any mattress protector should be easily removable and it should be launderable.
Get further information on this August special along with tips, tricks and secrets to buying a memory foam mattress at the Memory Foam Mattress Store website. You can access it directly at http://memory-foam-mattress-store.com.