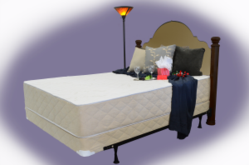 It's Our Way of Rewarding Our Great Customers
Incline Village, Nevada (PRWEB) June 21, 2012
Chuck Harmon, Managing CEO of the Charles C Harmon Co LLC, recently announced the implementation of a new promotion aimed at rewarding their present customers and the friends they refer, for a memory foam mattress purchase from the company.
The promotion will be ongoing and will reward the customer, who refers a purchaser, with a $50 cash reward paid directly by the Company. The referred friend will receive a $50 discount on any mattress purchased at the company website.
"It's our way of rewarding our great customers who continually refer their friends, neighbors and co-workers to our great memory foam mattress products. We feel that this is much better than squandering money on television, magazine and newspaper advertising," Harmon remarked.
"We've built our business on word of mouth and now we want to reward those who have helped us by telling their friends about their great experience with our company and the high quality products we sell."
"Typically, companies spend millions of dollars on advertising which, then, has to be passed along to their customers in the form of higher prices for a product which isn't necessarily of great quality. With our plan, we keep our costs down and pass along those savings to our customers. We feel that is a good business practice."
"There are no hoops for our customers to jump through to redeem the coupons after their friends purchase…all they have to do is give us a call or shoot us an email with the friends name and we'll promptly send out their reward money."
The Refer-a-Friend coupons will be inserted into every memory foam mattress package that leaves the company's warehouse and are good immediately for the customers and their friends.
The handy coupon is simply cut off and handed to the friend for immediate use with their purchase.
You can get more details by visiting the company's website at: http://memory-foam-mattress-store.com