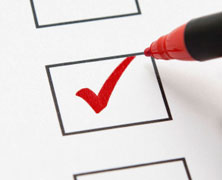 Phoenix, AZ (PRWEB) June 27, 2013
Mattresses can be a difficult thing to shop for, especially when looking for a new type of bed. In order to provide useful resources for shoppers, Consumer Mattress Reports is producing a series of checklists to explain the most important details and terminology shoppers should know before buying. Their latest effort takes a closer look at memory foam beds specifically.
In the guide, "Memory Foam Mattress Checklist", the blog explains a range of important features from density and firmness to memory foam types and warranties. The post opens by offering some background information about the history of memory foam, from it's start at NASA to Tempurpedic's introduction in the 1980s. The article then recaps a brief set of points about the pros and cons of the mattress type.
The Checklist looks at seven factors overall which the blog deems most important: density, thickness, firmness, memory foam type, fire barriers, warranty and trial periods. For each topic, they explain the range of differences, ideal specifications, and offer tips consumers can use to identify the best options for their needs.
For density and thickness, the guide identifies the ideal density as 4.0 to 5.3 lbs and explains which thickness may be best depending on body type and sleep style. They explain why firmness can be tricky to judge on temperature sensitive foams, and suggests to err on the side of firm when choosing a bed as memory foam can soften and firm beds are easier to fix.
Consumer Mattress Reports explains memory foam types in depth, focusing on traditional, gel and plant-based materials. They compare and contrast each and include a chart comparing traditional memory foam from Tempurpedic, gel foam from Serta iComfort, and plant-based memory foam mattresses from Amerisleep. The remaining three factors explain the controversy behind fire barriers, what to look for in warranty terms, and why an in home trial period of at least 30 days should be on every buyer's must-have list.
To wrap up the guide, the blog offers a "pocket guide" summarizing the essential information which consumers may which to copy and keep on hand when shopping. Overall, the guide will offers important details for all consumers to consider, and will prove especially helpful for those unfamiliar with industry lingo and the memory foam market.
Consumer Mattress Reports is an online magazine specializing in all things to do with beds and sleep. The easy-to-read blog design offers an inviting format for readers, with well-researched, expert articles on mattress ratings and brands. In addition to reviews and comparisons, the website also covers the latest mattress news and offers helpful shopping information geared towards shoppers.