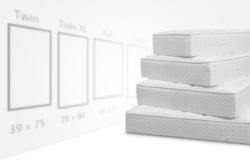 Phoenix, AZ (PRWEB) June 04, 2013
One significant part of buying a new mattress involves determining which size is best. Though in large part this depends on available space, consumers should also take into account the primary use of the bed and personal needs. When switching to a new type of mattress like memory foam, people also tend to wonder if sizing remains the same.
Memory Foam Mattress Guide, an expert bed blog, recently put together a guide defining the sizes consumers can expect with memory foam beds and offering guidelines for selection. The article, "Memory Foam Mattress Size Guide", briefly introduces memory foam and then offers detail explanations and visual representation for the normal and less common sizes.
The guide first recommends that readers consider the size of their current bed if they wish to simply replace a mattress. Rather than going off memory, they suggest physically measuring the current bed or foundation to ensure the correct size is purchased. Memory Foam Mattress Guide also shares a visual size chart borrowed with permission from Amerisleep.com, a plant-based memory foam mattress retailer.
Many of the sizes discussed will be familiar to most readers, such as twin, full, queen and king, though a few are less common like XL and split sizes. Primary differences from spring beds and within the mattress industry are mainly seen in twin sizes, with some variance in width (38 or 39 inches) and length (74 or 75 inches), though the majority of sizing proves similar to conventional beds.
As far as recommendations, the article suggests standard twin and full sizes for those under 65 inches tall, as most adults will require extra of space in order to sleep comfortably. XL sizes, which extend the length to 80 inches, can comfortably sleep individuals up to 6 foot tall. Queens are the minimum size recommended for couples, though king size beds are suggested for the additional 8 inches per side, comparable to each person having a the space of a twin XL. California kings, which offer an additional 4 inches of length, but 4 inches less width, are recommended for people over 6 feet tall.
Memory Foam Mattress Guide offers additional details and tips for shoppers, and explains less common sizes as well in the post, offering the dimensions of XXL lengths and split queen and king beds. The article refers readers seeking more in-depth advice to their buying guide on memory foam mattresses which looks at the various types and features shoppers will encounter.
MemoryFoamMattress-Guide.org offers detailed resources, geared towards people looking to buy or research a new bed. A fresh and easy-to-navigate blog format presents articles organized by topic and date, in addition to offering social tools and subscription feeds. From buying guides to brand information and news, readers can find unbiased information designed to create educated buyers.