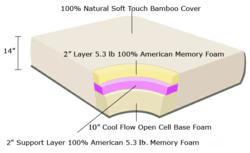 Consumers need reliable information when making a purchase
Incline Village, Nevada (PRWEB) November 28, 2012
Knowledge is power, as the old saying goes, and it isn't any less important when [buying a memory foam mattress. For over ten years, Chuck Harmon, CEO of the Charles C Harmon Co LLC has been dispensing that knowledge to anyone willing to check it out.
Chuck says that people really only need to know a few things in order to find a high quality memory foam mattress and he's been publishing articles, videos and posting content on the Internet for years with that end in mind.
Consumers need reliable information when making a purchase and many people find that information on the Internet these days. More and more people are shopping online and, before making a buying decision, they find it useful to do some research on the products they are thinking about buying.
The Internet has changed the game and wise consumers use the easy access to information to help with their choices. The one problem is how to know the good information from the bad. Not everyone publishing information online is an expert or even knows anything about the subject matter except what they've read on someone else's website or in an article.
"I've always relied on quality information that I've obtained from reliable sources such as the Polyurethane Foam Association and other industry specific sources, such as the other experts in the field, to gather information which can then be put into a more easily understood format and made available to consumers." said Harmon.
"When I first began in the memory foam mattress business, as a partner in a TempurPedic dealership, there was very little information online about memory foam and that left the door wide open for charlatans to fleece an easy, uninformed prey. I think I put up my first online article on how to recognize quality memory foam in 2003.
Before that it was all offline but I still wanted to educate people to help them keep from getting stuck with a product that would cause them a nightmare instead of giving them the restful sleep that good memory foam can deliver."
In 2010 Chuck published his Memory Foam Buyers Guide on Amazon. The book sells for $19.95 but he has made a downloadable copy available, free, to anyone interested in discovering the 5 fatal mistakes people make when buying a memory foam mattress and how to avoid them.
You can download the PDF version of his book, absolutely free at the following website. Click the link to be taken directly to the page to download a copy. http://memory-foam-mattress-store.com