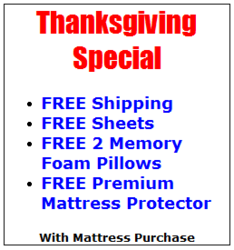 As a company, we are thankful to Almighty God for the blessings He has bestowed on our country...
Incline Village, Nevada (PRWEB) November 22, 2012
Chuck Harmon, CEO of Charles C Harmon Co LLC announced Tuesday that the Memory Foam Mattress Store will be giving away a free 300 thread sheet set, a premium mattress protector, 2 memory foam pillows and free shipping during their Thanksgiving Special November 22-25.
"Thanksgiving is an American tradition. We are the first country in history to set aside a special day to thank God for our blessings. It's our hope that all Americans will take time during the festivities of the day to do that. As a company, we are thankful to Almighty God for the blessings He has bestowed on our country and the fact that we live as free people. This is our way of giving thanks to Him and to our customers, without whom we wouldn't have a business. The free shipping and free mattress protector have been in place for a while now but for this Thanksgiving Special we want to add to that by including two memory foam pillows and a 300 thread count cotton percale sheet set," stated Harmon.
To take advantage of this offer, customer orders must be placed no later than Sunday, November 25, 2012. Visit the Memory Foam Mattress Store and place an order for any of the memory foam mattress models by that date and the special items will automatically be added.
Once the order is placed, the customer will receive an email order confirmation detailing all the items to be included with their order.
For a short written account of the first Thanksgiving Day celebration with the early Pilgrims and the Indian named Squanto, follow this link: http://joyfulheart.com/thanksgiving/squanto.htm
Questions or comments about the Memory Foam Mattress Store Thanksgiving Special can be directed to customer care at 888-822-3410 Toll Free. Press number 2 when prompted. Or customers can visit the website directly at http://memory-foam-mattress-store.com to place an order.