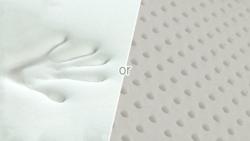 Omaha, NE (PRWEB) April 26, 2013
Many people considering a new bed often question whether memory foam or latex mattresses offer the best option. However, because individuals have a wide range of preferences and needs, it is not necessarily practical to describe one type as the single best mattress. The Best Mattress, a blog about beds, aims to offer detailed answers for shoppers in their latest article, "Memory Foam or Latex: Which is the Best Mattress?".
Rather than blindly recommending one or the other, the blog approaches the question by comparing the performance and features of both memory foam and latex. Their side-by-side analysis is meant to offer consumers a resource to contrast with their own idea of the perfect mattress.
In the article, The Best Mattress begins by offering an introduction to both bed types. Readers receive information on what makes each mattress unique, an overview of what the beds and materials are made of, and primer on the subcategories of each, from plant-based memory foam to synthetic latex.
Next, a convenient scorecard offers a simple and accessible comparison of memory foam and natural latex mattresses. The blog grades both beds on a wide range of dimensions, using a A-F scoring system. Seventeen factors are compared in total, including owner satisfaction, pain relief, ease of movement, heat, odor, and more.
Summarizing the findings, The Best Mattress offers a comparative breakdown of both the similarities and differences between memory foam and latex. While the two materials both offer higher owner satisfaction, pain relief, and support, they differ on factors like conformity, odor, and eco-friendliness.
Based on their findings, they offer a five point checklist for readers to determine if either type might match their needs, and also make brand recommendations. For memory foam, the blog recommends plant-based memory foam mattresses from Amerisleep which minimize issues like VOC's and heat associated with some other lines. For latex, they suggest Astrabeds' 100% natural Talalay latex mattresses which exclude toxic chemicals and offer customization.
The Best Mattress also reminds readers that both memory foam and latex remain the two highest-rated mattress types overall, and thus each offers a good chance of owner satisfaction. The overall impression the article leaves readers with is that in order to determine which type is best, consumers must consider what they want in a bed compared with what the various models offer.
TheBest-Mattress.org is a mattress education blog that offers insightful guides and product comparisons for consumers. The website reports on a range of topics from mattress brands to shopping tips, offering an unbiased and well-informed at look at the facts.