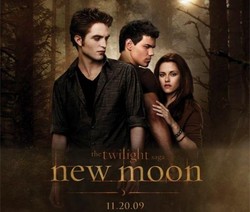 The Twilight Saga: New Moon
Houston, TX (PRWEB) November 20, 2009
Home and Bedroom Furniture believes that the vampires from "The Twilight Saga: New Moon" need the improved rest that eco friendly memory foam mattresses provide after a tough night of fighting werewolves. Likewise, Robert Pattison and Kristen Stewart are certain to learn that an Earth friendly night's sleep will provide superior benefits to both the mortal and undead. In honor of the premiere of the new movie, Home and Bedroom is offering a 10% savings on its already discounted Earth friendly products.
Home and Bedroom is introducing several new eco friendly beds to make sure that the vampires from "Twilight: New Moon", as well as mortals, can rest peacefully. Introducing lines from Keetsa, Ecomfort Mattresses, Magniflex and Natura, Home and Bedroom has added to it's collection of eco friendly beds that provide a great place to rest in dark places. As any vampire and werewolf fan knows, beds made with materials from the Earth are best for resting after a night of undead activities.
Vampire obsessions seem to be sweeping the nation. Last March, what was believed to be a vampire burial was unearthed in Venice. The lead Forensic Archaeologist Matteo Borrini was quoted as saying, "Vampires may not exist, but studies show people certainly believe they did." Well, Twilight fans know! Of course vampires exist! How else can you explain a love like Edward and Bella's? You can't just make that stuff up.
According to the Atlanta Vampire Alliance "Without feeding, vampires will become lethargic, sickly, depressed, and often go through physical suffering or discomfort." Similarly, when weak, they will find the benefits of sleeping on a mattress that has green tea among its materials, like the ones made by Keetsa, very helpful in restoring their energy.
To keep werewolves at a comfortable 108 degrees, undoubtedly they would benefit from the heat sensing qualities of open cell memory foam technology, such as that found in Ecomfort Mattresses. To enjoy these qualities while saving money, cost conscious Vampires can take advantage of Home and Bedroom's 10% sale using the code "Twilight" in coupon boxes at the bottom of every check out page. The sale will continue until the end of May.
Home and Bedroom spokesman, Ben Weissman, says "We want to provide a comfortable night's sleep to anybody that needs it, be they mortal or vampire". To see Home and Bedroom's collection of earth friendly, eco beds, such as those made by Keetsa, Ecomfort, Natura, and Classic Sleep Mattresses, visit http://www.home-and-bedroom.com.
# # #