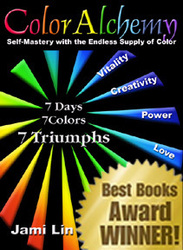 One of my clients has a mother suffering from Alzheimer's disease and we use ColorAlchemy.
Miami, FL (Vocus) August 16, 2009
Today's hectic lifestyle leads people to overstress, which can cause forgetfulness. Alzheimer's disease and dementia are on the rise. Many drugs are available to help memory function, but people are searching for alternative therapies to supplement or replace medications. Enter ColorAlchemy, a color, mental therapy program that can be used to improve upon memory function and reduce forgetfulness.
Jami Lin, award-winning author says, "There are no side effects, contraindications, or detox as much with much modern medicine. The time-tested healing benefit stems from our primal relationship with color, which is as old as light itself."
Dr. David Swindle, LMFT, with more than thirty years Licensed Marriage & Family Therapist confirms, "the power of color and its personal attraction to them provides valuable information for making psychological corrections and bringing about positive and permanent behavioral change."
A beneficial aspect of the program is that each day is assigned its own color. Color order follows the natural order of the rainbow, making it intrinsically recognizable and intuitive to apply. The week begins on Monday, with red. It is followed by orange on Tuesday, yellow on Wednesday, green on Thursday, blue on Friday, indigo on Saturday, and violet on Sunday.
Those wishing to improve memory function need only to focus on each day's color. On Mondays, wear red clothing. Put all appointments and reminders for the day on the calendar in red pen, or outline the day in red. Intersperse the day's meals with red foods which increase vitality too Repeat the process each day, following the designated color of the day.
"Possibilities for tying in color for each day are endless," say Lin, "One of my clients has a mother suffering from Alzheimer's disease and we use ColorAlchemy." One method used to remind Mom to eat lunch every day is to put a napkin of the daily color next to the prepared lunch. Even though Mom doesn't necessarily know what day of the week it is, or if she has even eaten lunch, she recognizes the new color, and remembers to eat.
Jami Lin even uses this technique to remember to take her daily vitamins! Do this by having little colored boxes for each day's vitamins, supplements, and medications.
Using color consistently is great for memory function. Try to schedule certain types of appointments for a specific day of the week, to associate them with the daily color. For example, all dentist appointments should be scheduled on Wednesday, so that the dentist can become associated with yellow. (And for those who fear the dentist, yellow also is a confidence-building color, to reduce the fear of going!) Take exercise classes on Mondays. (Red also encourages physical stamina, which you will need in the classes!)
For further color therapy tips to add in healing, visit Jami Lin at ColorAlchemy.com.
About us
Jami Lin's (JamiLin.com) new, award-winning ColorAlchemy book (ColorAlchemy.com), is heralded as "advanced thinking for infinite possibilities." She is a 30-year veteran of interior design. Her expertise evolved into Feng Shui (Feng-Shui-Interior-Design.com), international recognition as a master with six best-selling books, an online home-study certification program, and PBS-TV pilot. Color is her trademark.
PR-PRomoPRo.com/Media provides the press with valuable, tailor-made content using color therapy, Feng Shui, design, and youth-enhancing wellness in: Lifestyle/General Interest, Family/Children, Business Success, Home/Garden, Health: Body, Mind, Energy Medicine, Youth-Enhancing Secrets, and Human Spirit/Awareness.
Jami is available for interviews.
Photographs available on request.
Media contact:
Joy Starr
941-276-8689
ColorAlchemy.com
Written by:
Andrea Coventry
585-482-7702
montessoriwriter.today.com/where-to-read-me
# # #