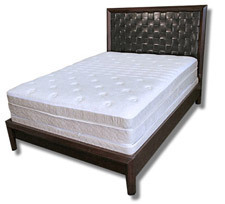 Escondido, CA (PRWEB) September 6, 2008
SleepAidFactory.com has been making the world's best visco-elastic memory foam mattresses and other bedding products and has recently released three new memory foam mattress styles: Feather-Pedic, Inspiration and Dream Mattress Series. These visco-elastic memory foam products are all made in the US and don't contain harmful chemical residues that other brands sometimes carry.
The Sleep Aid Feather-Pedic boasts 3 inches of 4-pound of Heat Reduction Channels (HRC) memory foam for optimum support and comfort. The combination of memory foam, an orthopedic anti-vibration core, comfort-saving HRC and the SleepDry Wick-Away cover will bring a fulfilling sleep experience with the 8 inch mattress.
The Sleep Aid Inspiration is customizable and can produce nine distinct feels when the three layers are rearranged. The HRC memory foam conforms to the body, places the spine of proper alignment and the medical grade anti-vibration core provides support and absorbs movements, ensuring a full night's sleep with the 12 inch mattress.
The Sleep Aid Dream is the crème de la crème when it comes to sleeping comfortably and is completely customizable. The 15 inch mattress features eight distinct comfort-enhancing layers, including three removable core layers split down the middle for two different preferences. The mattress features 162 configurations to create a firm or soft sleeping arrangement.
Special features of Sleep Aid mattresses include:

Anti-Vibration Core will absorb motions on one side of the bed without sending vibrations to the other side
Patented HRC memory foam conforms to the contours of the body and keeps the spine in proper orthopedic alignment
Cross-hatched and ventilating design of HRC system keeps the mattress from getting too hot
Sleep Ease layer provides increased stability and firmness with air flow perforations to control the temperature of the mattress
Loft-Endure quilting material foam that eliminates body impressions
Aloe-infused bamboo cover that rejuvenates the skin with more than 160 vitamins, minerals and enzymes and draws moisture away from the body while sleeping
90-day sleep trial and 20-year warranty offered
For more information, visit SleepAidFactory.com
About SleepAidFactory.com:
SleepAidFactory is a worldwide leader in memory foam mattress innovation and technology. In order to ensure the sustainability of its products, Sleep Aid products are only distributed to select retailers to maintain the integrity of the merchandise. All products are hypoallergenic and no toxins or harmful chemicals are used in the production. Sleep Aid items are vacuum sealed after the manufacturing process, ensuring the highest quality choice for bedding.
Contact:
Sleep Aid Factory Headquarters
3137 Willow Tree Lane
Escondido, CA 92027
877-860-2124
SleepAidFactory.com
info@sleepaidfactory.com
###