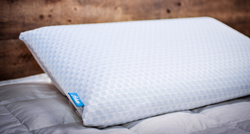 We developed a cutting edge cooling technology that is going to change the way people talk about memory foam.
Greenville, SC (PRWEB) September 25, 2014
Memory foam technology is stepped up with Fohm's ThermaPhase cooling component. Unlike other cooling pillows on the market, the Fohm pillow reduces heat and wicks it away from the body during sleep - the result is an even body temperature of 88 degrees.
"Memory foam pillows offer so many great benefits, but their tendency to trap heat during sleep is a major problem," said Nick Ondrako, Fohm Co-Founder. "We solved this problem by using a new cooling technology called ThermaPhase which provides superior heat distribution."
The pillows will be offered in a variety of shapes and will be encased in a phase change fabric for an additional layer of cooling comfort.
Fohm, creator of the next generation memory foam pillow, will be launching on Kickstarter, October 1st.
Visit http://fohm.com to learn more.