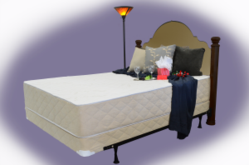 The future looks brighter than ever for the memory foam mattress industry as a whole
Incline Village, Nevada (PRWEB) June 12, 2012
The Charles C Harmon Co LLC announced its latest product introduction on Monday with a 40% discount coupon that is available at Memory Foam Mattress Store Coupon. "The 100% Organic Cotton Mattress Protector is our answer to those looking for an organic answer to protecting their memory foam product" said Chuck Harmon, Managing CEO.
"Many people are concerned about the number of products being offered that are sourced in other countries, like China and are more interested in starting to purchase products that are made in the USA. This new product is made in the USA of materials imported from Canada, so we're keeping the entire sourcing and manufacturing process right here in North America to help stimulate the economy. We feel strongly about doing everything we can to get this economy back up and running in true American tradition of prosperity."
"People are also concerned about protecting the large investment they've made in their memory foam products, like mattresses and mattress toppers so this is an ideal solution for them. Memory foam is temperature sensitive and anything you place between your body and the memory foam will adversely affect the way the temperature sensitive material works. This product was developed specifically to work with and not interfere with the temperature sensitive aspect of memory foam products."
This product uses a 100% recycled PU membrane material for the backing that works much like our human skin. It allows cooling air to flow from the bottom upwards while locking out any liquid penetration from the top down. It's fully machine washable and dry-able for ease of cleaning.
The product will be offered on Amazon.com and anyone interested in getting the limited time 40% off coupon should visit the Charles C Harmon Co LLC owned website at http://memory-foam-mattress-store.com