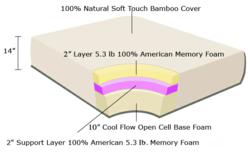 The Most Critical of these 5 Fatal Mistakes is Buying a Memory Foam Mattress that Uses Foreign Poured Foam
Incline Village, NV (PRWEB) April 19, 2012
The Charles C Harmon Co LLC has recently released a consumer oriented book titled "Memory Foam Mattress Buyers Guide." The book, authored by Chuck Harmon, CEO, is now available on Amazon.
"Anyone shopping for a memory foam mattress without knowing these 5 fatal mistakes is shopping for a nightmare," says Chuck Harmon, CEO of the Charles C Harmon Co. LLC. "Foreign poured memory foam will almost always contain formaldehyde, CFC's, PBDE's and any number of other toxic ingredients. These types of ingredients will make a mattress sleep hot, stink like rotten limburger cheese and cause it to be too firm for most people's comfort. Therefore, the most critical thing is to ask if a mattress is made using foreign poured foam."
Chuck stresses that the second most important thing that should be considered is the density of the memory foam. According to the Polyurethane Foam Association, higher density foams will provide better support for the human body, will have a longer life expectancy and have a lesser tendency to develop body impressions.
Another caution with foreign foams is that they will, many times, contain clay additives that give them a false density rating which is higher than the actual density. These additives destroy the composition and feel of the memory foam and a mattress made with this kind of foam will, normally, not last nearly as long as pure memory foam. This is just another reinforcement of rule #1, which is to consider only memory foam mattresses which are made with foam poured in the USA.
Asking the right questions is the key to avoiding some common pitfalls. One deceptive practice, of some memory foam mattress manufacturers, is to buy foam from a foreign source then cut the foam and make the cover in the U.S. and advertise their mattress as Made in America. When shopping, be sure to ask in what country the foam was poured.
There is an abundance of further information about what to look for when shopping for a quality memory foam mattress and how to detect the poor quality memory foam that is prevalent in the bedding market. Check out the informative video at http://memory-foam-mattress-store.com and be sure to download a free copy of the Memory Foam Mattress Buyers Guide while it is still being offered for free.