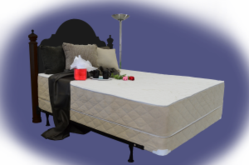 New studies have produced evidence that many of the causes of marital discord begin in the bedroom
Incline Village, Nevada (PRWEB) May 31, 2012
New studies have produced evidence that many of the causes of marital discord begin in the bedroom and not for the more obvious reasons. Lack of sleep can cause irritability, especially if that lack of sleep is caused by a restless or snoring spouse, and this can lead to marital discord.
Chuck Harmon, Managing CEO of Charles C Harmon Co LLC, states that tests have shown that a high quality memory foam mattress can address many of these marriage troubling issues. For instance, a person tosses and turns, many times during the night, because they develop pressure points when sleeping on conventional coil spring or air mattresses.
Memory foam was developed to greatly reduce pressure points so people can sleep much longer in one position and that means they're not as likely to disturb their spouse, as often, during the night. Add to that the deadening of motion transfer, from a restless sleeper, and you eliminate many of the factors that cause insomnia for their spouse.
Also, many times a person, who could sleep on their side, will turn to their back to help relieve pressure on the shoulders and this produces a much higher chance of loud snoring. Eliminating the pressure allows them to sleep in a less "snore inducing" position and helps the spouse remain asleep. But marital problems aren't the only hazards of long term sleep deprivation. Studies have also shown a link to diabetes, cardio-vascular disease, depression, weight gain and other maladies.
Discover more about the marital and overall health benefits of a memory foam mattress at our website.