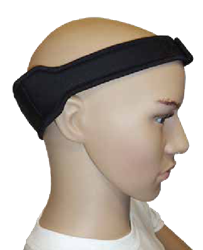 Dr. Allen's Device for Head and Brain provides a gentle increase of blood circulation in the brain improving wellbeing of a person.
London, GB (PRWEB) August 13, 2014
Fine Treatment recommends newly designed Dr. Allen's Device for Head and Brain that provides natural Thermobalancing therapy to enhance the blood flow in the brain helping people fight with cerebrovascular disease. It is important to warn people about this therapy as the recently announced studies confirm that common health disorders, such as chronic fatigue syndrome and memory loss, are caused by nerve cell inflammation and structural changes to blood vessels in the brain, which in essence are conditions caused by problems in local blood circulation.
According to the article 'New diagnostic tool for chronic fatigue syndrome,' dated August 8, 2014, the only way a doctor could diagnose chronic fatigue syndrome (CFS) was to eliminate other causes of symptoms and see if your fatigue, unrelieved by sleep, persisted for six months. But a recent study shows a brain PET scan may identify people with CFS quickly and accurately. Turns out people with diagnosed CFS have widespread nerve cell inflammation, particularly in brain areas related to fatigue, pain and thought processing.
'There's no Food and Drug Administration-approved medication to treat CFS (meds just manage symptoms),' notes Dr. Simon Allen. 'Of course there are dietary changes that may ease brain inflammation, however, the main opportunity in helping people to get rid of swelling in the brain is a treatment of the affected area locally.'
The article 'Memory loss in middle age means higher dementia risk,' dated August 9, 2014, says about a long-term Dutch study which has found that those with middle-age memory loss are four times more likely to develop the disease. This study of 11,000 people also found several factors brought on middle-aged memory loss including low cholesterol levels, suffering a stroke, blood vessel damage, having the Alzheimer's risk gene and older age.
The study highlights structural changes to blood vessels in the brain in those with mild cognitive impairment, even before memory problems begin. Dr. Arfan Ikram from the Erasmus MC University Medical Centre in Rotterdam, said: "Mild cognitive impairment has been identified as the transitional stage between normal ageing and dementia."
"Thermobalancing therapy should be recommended for adults with cerebrovascular disease who are experiencing chronic fatigue syndrome and memory impairment," comments Dr. Allen. "Dr. Allen's Device for Head and Brain provides a gentle increase of blood circulation in the brain improving wellbeing of a person."
For details, please visit Fine Treatment at http://finetreatment.com/brain-and-head-treatment/.
About Dr. Simon Allen and Fine Treatment:
Dr. Simon Allen, MD, PhD, Academician, member of the ATA, is a highly experienced medical professional. His specialty is in internal medicine. He has treated a wide range of chronic diseases, including patients after a heart attack, stroke, with kidneys problems, including kidney stones disease, prostate and spine conditions, as well as metabolic disorders.
Fine Treatment ensures international availability of Dr. Allen's Devices for the treatment of chronic prostatitis and BPH, coronary heart disease, for dissolving kidney stones, for a powerful relief of upper and lower back pain and sciatica, as well as for natural brain function support.