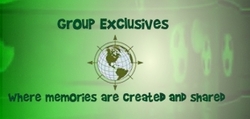 "I foresee videos being shared around the world of specific events, such as house parties, tailgating or actual participation or attendance at the game, the service is open to all sports or competition related events and can be collected for years to come
Los Angeles, CA (PRWEB) December 23, 2009
GroupExclusives.com is proud to announce the introduction of Memorys for college football bowl fans, athletes and participants. Memorys by GroupExclusives.com are a culmination of individual memories condensed into a forum specific to a sports game or event, individual athletes or teams. If you are a fan, athlete or participant you can now join this fun and exciting space where we connect people of mutual interest in one intuitive and organic area.
Jimmy Legg, founder of GroupExclusives.com states, " Offering a preset of college football bowl game Memory's is a natural progression in the evolution of the web site." "Sports fans of all levels and disciplines can create their own Memorys as part of this free service."
"I foresee videos being shared around the world of specific events, such as house parties, tailgating or actual participation or attendance at the game, the service is open to all sports or competition related events and can be collected for years to come." Remarks Legg.
To join in this revolutionary step forward in social networking, you can visit the site at http://www.GroupExclusives.com and select Find a Memory to join your favorite bowl game, or create your own. Participants can chat live with fellow participants via the Conversation option as well as upload video and pictures to combine everyones experience into one Memory commemorating the event. Users can also view the Memorys video to learn more about creating Memorys.
Memory presets include; New Mexico Bowl, Albuquerque, NM – Wyoming vs. Fresno St.,
St. Petersburg Bowl, St. Petersburg, FL – Central Florida vs. Rutgers
R&L Carriers New Orleans Bowl, New Orleans, LA – Middle Tennessee St. vs. So. Mississippi
San Diego County Credit Union Poinsettia Bowl, San Diego, CA – Utah vs. California
Sheraton Hawaii Bowl, Honolulu, HI – Nevada vs. Southern Methodist
Little Caesars Bowl, Detroit, MI – Marshall vs. Ohio
Meineke Car Care Bowl, Charlotte, NC – Pittsburgh vs. North Carolina
Emerald Bowl, San Francisco, CA – Boston College vs. USC
Gaylord Hotels Music City Bowl, Nashville, TN – Kentucky vs. Clemson
Roady's Humanitarian Bowl, Boise, ID – Bowling Green vs. Idaho
Pacific Life Holiday Bowl, San Diego, CA – Nebraska vs. Arizona
Bell Helicopter Armed Forces Bowl, Fort Worth, TX – Air Force vs. Houston
Texas Bowl, Houston, TX – Navy vs. Missouri
Chick-fil-A Bowl, Atlanta, GA – Virginia Tech vs. Tennessee
Outback Bowl, Tampa, FL – Northwestern vs. Auburn
Rose Bowl, Pasadena, CA – Ohio State vs. Oregon
Allstate Sugar Bowl, New Orleans, LA – Cincinnati vs. Florida
International Bowl, Toronto, Canada – South Florida vs. Northern Illinois
PapaJohns.com Bowl, Birmingham, AL – Connecticut vs. South Carolina
AutoZone Liberty Bowl, Memphis, TN – Arkansas vs. E. Carolina
Valero Alamo Bowl, San Antonio, TX – Michigan State vs. Texas Tech
Tostitos Fiesta Bowl, Glendale, AZ – Boise State vs. TCU
FedEx Orange Bowl, Miami, FL – Georgia Tech vs. Iowa
GMAC Bowl, Mobile, AL – Central Michigan vs. Troy
Citi BCS National Championship Game, Pasadena, CA – Texas vs. Alabama
About Memorys by GroupExclusives.com
GroupExclusives.com is an online RFP travel service site dedicated to sports travel for collegiate, youth, amateur and association sports. In addition to the travel services side of the site, GroupExclusives.com offers Memorys, a fresh new approach to social networking where athletes, fans and participants can join together to share their individual memories and capture one of the most detailed records of a sporting event in history by combining an unlimited amount of participants to share their individual memories.
###