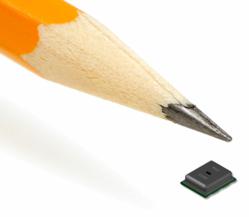 (PRWEB) May 17, 2013
MEMS Vision, a leading supplier of cutting-edge MEMS-based solutions to the global sensing market, introduces its most advanced MVH3000D Series of digital relative humidity (RH) and temperature (T) sensing chips.
A unique combination of features, programmability, and high performance specs, ensures the most competitive value in the industry:

Highest accuracy chips – an impressive ±1.5%RH accuracy (model MVH3001D)
Unmatched robustness, reliability, and durability – achieved through the proprietary use of silicon carbide (SiC) to build and protect the miniature sensors
Highest electromagnetic interference protection – the only chips in this class of sensors featuring grounded metallic shields
Highest level of programmability in the industry – in addition to the wide range of allowable supply voltages (1.8V - 5.5V), the resolutions of the RH&T readings can be set independently from 8 to 14 bits, for a total of 16 different combinations
Fast RH response time – 6 seconds typical for humidity measurements
Extremely low power consumption – 2μW average power for one RH+T measurement per second in the lowest power mode (1.8V, 8-bit resolution)
Very high temperature accuracy – a temperature accuracy of ±0.2ºC is guaranteed, over the wide range from -10ºC to 80ºC (models MVH3001D and MVH3002D)
Ultra-thin and very small form factor – 2.4 x 3 x 0.8 mm.
The MVH3000D Series features four products, offering a comprehensive choice of RH accuracies, from ±1.5%RH to ±3.8%RH, and of temperature accuracies, from ±0.2ºC to ±0.3ºC.
The versatility and quality of this new product line positions MEMS Vision as an industry leader in RH&T sensing, and makes them the ideal partner for a wide range of applications and markets, such as consumer electronics, health & fitness, industrial, building automation, appliances, and wireless sensing (the internet of things).
Lead international customers are currently sampling these new products, and an evaluation kit is now available to experience and assess the full capabilities of these sensors, along with a set of reference designs. The kit can be ordered online from the website of the company (click here to order).
MEMS Vision will showcase the MVH3000D Series at the 2013 Sensors Expo in Rosemont, Illinois, on June 4-6, 2013.
More information can be found at http://www.mems-vision.com
ABOUT MEMS VISION
MEMS Vision is a leading semiconductor, sensors, and MEMS company that provides cutting-edge miniaturization solutions to the sensing and high performance electronics markets. The company capitalizes on a team of highly qualified personnel, on a solid and broad portfolio of patents and intellectual property on MEMS and ASICs, and on its revolutionary MoSiC™ platform technology, to offer a range of environmental sensing products and advanced MEMS-based solutions.