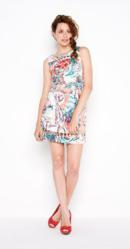 As the sophistication level of urban fashion rises, Skunkfunk is not just keeping up—we're leading the way
San Francisco, CA (PRWEB) April 28, 2012
Wondering what to wear to all those upcoming spring weddings? Cute dresses from Skunkfunk's current Spring and Summer Collection feature effortless style and fun colors in flattering fits that make any urbanite the most fashionable girl on the guest list.
"As the sophistication level of urban fashion rises, Skunkfunk is not just keeping up—we're leading the way," said Kyle Retzik, owner of Skunkfunk North America. "For women who are wondering what to wear to a day wedding, we've got you covered."
Here are five of Skunkfunk's favorite picks for spring wedding wear:
A fun print and cut-out detail at the neck and hem make this classic shift silhouette a unique addition to any spring wardrobe. Made from 97% cotton and 3% elastane, the Tutarra dress is breathable and cut to flatter. Pair with some comfortable bright peep-toe pumps for an extra pop.
This sleeveless round-neck beauty is fitted at the bodice with an A-line skirt perfect for swirling around the dance floor. The cut out detail on the upper-back and bright colors add the right amount of flair to this enviable piece. The Karine is made from 70% cotton, 27% nylon and 3% Spandex.
Right on trend, the Irkusne dress features a fabulous bold take on the Chevron pattern that's sure to make a statement. Skunkfunk suggests pairing this sleeveless mini-dress with the Garazi jacket for a pulled together party look.
Stand out from the crowd in the Sorkun. Its asymmetrical design, featuring a cap sleeve on one side and strap on the other complements the unique print wonderfully. Simple accessories and strappy sandals complete this effortless style that can be worn to any event, especially spring weddings.
For a more luxurious look, the Mariadam offers a flowy, silky feeling polyester short-sleeved dress with darling spring colors, a geometric floral pattern, and a cut-out strap on the left sleeve. It comes with a matching belt and hangs perfectly to flatter any figure.
Skunkfunk (http://www.shopskunkfunk.com) offers urbanites eco-friendly fashion, including convertible clothing that can be instantly redesigned for different looks and occasions. The Spanish-born purveyor of fine clothing is applauded for its eco-friendly fabrics and ethical distribution practices that harmonize with the environment.
Skunkfunk works hard to bring positive change to three areas of the fashion industry: people, planet and prosperity. Textiles are carefully chosen based upon their impact to the environment, and include recycled polyester, organic cotton, and Lyocell.
RECYCLED POLYESTER
Polyester comes from crude oil, a natural scarce resource with a low renewability ratio. Recycled polyester is processed in a less energy intensive way than creating virgin fibers, and it's a perfect option to give a second life to post-industrial remains or post-consumer plastic waste.
ORGANIC COTTON
Organic Cotton is a natural fiber cultivated without the use of synthetic chemicals, such as pesticides or fertilizers, and is not genetically modified.
LYOCELL
Lyocell is a light and silky textile made from regenerated cellulosic fiber that comes from eucalyptus wood pulp. The biodegradable fiber is extracted under a sustainable closed-loop process that saves energy.
For more information about the ENK shows, the Northwest Market show, or any of Skunkfunk's products, call (415) 692-7678, go to http://www.shopskunkfunk.com, or visit one of their three stores located at 1475 Haight Street (Haight-Ashbury) and 302 Valencia Street (The Mission) in San Francisco or 181 Orchard Street (SoHo) in New York City.
About Skunkfunk
Skunkfunk is a Spanish-born New York and San Francisco clothing store that specializes in environmentally-friendly women's, children's and men's clothing. Skunkfunk has stores in San Francisco, New York City, various European cities and online. Their clothing is also sold in multi-brand stores throughout the United States.