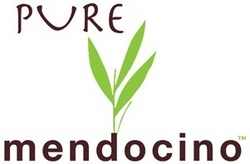 UKIAH, Calif. (PRWEB) July 16, 2008
Friday, August 22nd, 5-9 p.m.
The weekend kicks off with an all-organic dinner at Dark Horse Ranch, a Biodynamic® farm owned by Paul Dolan, partner in Mendocino Wine Company and co-chair of Pure Mendocino, together with Sara O'Donnell. The multi-course meal, prepared by Chef Craig Strattman of Patrona Bistro in Ukiah, showcases organic ingredients and wines from Mendocino County's diverse growing regions. Tickets for the Dinner are $135 per person or $1250 for a table of eight.
Saturday, August 23rd, 4-7:30 p.m.
Local chefs, organic wineries, and purveyors of organic and wild-crafted foods gather on the vineyard patio of Parducci Wine Cellars for an evening of food and wine sampling, cooking demonstrations, live entertainment, and information about sustainable living. During the event, guests are invited to bid on silent auction items including select wines and local, artisanal products. Tickets are $40 per person or $350 for a block of ten.
Sunday, August 24th, Tour 10 a.m., Picnic 12-2 p.m.
Co-sponsored by Ukiah Natural Foods Co-op, the family-friendly Pure Mendocino Farm Tour and Picnic begins with a free tour of McFadden Farm and Vineyard in Potter Valley. Visitors will experience, first hand, sustainable farming practices in operation. Following the tour, the weekend concludes with an organic picnic accompanied by live, local music. Tickets are $15 per person. Children under five are free.
About the Cancer Resource Centers of Mendocino County
With offices in Ukiah and the coastal village of Mendocino, CRCMC helps cancer patients, their families and caregivers, with a full range of support services including assistance with formulating care plans, advocacy for benefits, support groups, counseling, and transportation. In 2007, CRCMC founder Sara O'Donnell was honored by the Robert Wood Johnson Foundation as one of 10 outstanding individuals, across America and Puerto Rico, to receive the Foundation's 2007 Community Health Leadership Program Award.
For information and reservations please visit http://www.puremendocino.org or call CRCMC toll free at 800.449.6483.