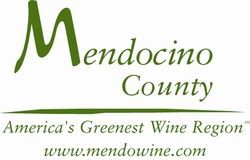 It was interesting to note that the sweepstakes and gold medal winners came from a diversity of Mendocino County AVA's, a fact that reflects the quality of winegrapes and wines from all of the county's eleven distinct growing regions
UKIAH, Calif. (PRWEB) August 13, 2008
Navarro Vineyards led in the number of medals with 20, followed by Husch Vineyards with 14, Graziano Family of Wines with 12, and Handley Cellars with 10. Several wineries won gold medals with the entry of a single wine: Cakebread Cellars 2005 Anderson Valley Pinot Noir; Raye's Hill 2005 Henneberg Anderson Valley Pinot Noir; Roederer Estate Brut NV; Scharffenberger Cremant; and Terra Savia 2006 Sanel Valley Vineyard Chardonnay.
Rich Schaefers, this year's Chairman of Mendocino Winegrape & Wine Commission, which annually manages the competition, said, "One of the most gratifying aspects of the competition was to see the overall high caliber of entries, which resulted in nearly 80% of them getting awards from a very experienced and tough panel of judges." Heidi Dickerson, author of Mendocino: The Ultimate Wine & Food Lover's Guide, directed this year's competition. "It was interesting to note that the sweepstakes and gold medal winners came from a diversity of Mendocino County AVA's, a fact that reflects the quality of winegrapes and wines from all of the county's eleven distinct growing regions," she said.
Judges included Mark Bowery, George Bursick, Jeff Cox, Thom Elkjer, Ziggy Eschliman, Linda Murphy, Ben Pearson, Pooch Pucilowski, Glen Putman, Renato Sardo, Christopher Sawyer, Tom Simoneau, Forrest Tancer, and Wilfred Wong.
To see the full list of 2008 medal winners, please visit http://www.mendowine.com.
About Mendocino Winegrape & Wine Commission
The Mendocino Winegrape & Wine Commission is an alliance of 73 wineries and 343 winegrape growers based in Mendocino County, California. The Commission, founded in 2006, is dedicated to sharing knowledge of the singular attributes of the winegrapes, wines and wine estates of Mendocino County, America's Greenest Wine Region, with a diversity of audiences around the world. http://www.mendowine.com, (707) 468-9886.