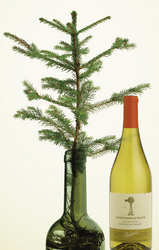 Partnering with Parducci has allowed us to offer the highest quality sustainable wines to our guests
Ukiah, CA (PRWEB) April 13, 2011
Throughout the month of April, Parducci Wine Cellars (PWC) and the BRAVO! BRIO Restaurant Group (BBRG) are supporting tree planting through wine sales of Parducci Chardonnay, Sustainable Red and Sustainable White by the glass or bottle at all the group's restaurants. Both companies will donate funds to American Forests® to plant 5,000 trees in areas devastated by wild fires.
"Partnering with Parducci has allowed us to offer the highest quality sustainable wines to our guests," said Angelica Sbai, beverage coordinator of BBRG.
"Our land stewardship and winegrowing practices lead to healthier soil, balanced grapes, and higher quality wines," says Parducci managing partner Tom Thornhill.
American Forests® works to protect, restore and enhance the natural capital of trees and forests. http://www.americanforests.org
BRAVO! Cucina Italiana (BRAVO) and BRIO Tuscan Grille are owned by BBRG, a national restaurant chain. http://www.bbrg.com
Parducci Wine Cellars operates with high standards: certified sustainable farming practices, support of local family farms and the Mendocino community, water reduction, reuse and recycling programs, carbon neutrality, use of 100% green power, and earth-friendly packaging. Owned by Tom and Tim Thornhill and Paul Dolan, Parducci Wine Cellars twice (2007, 2009) received the Governor's Environmental and Economic Leadership Award (GEELA), California's highest environmental honor. http://www.parducci.com
# # #