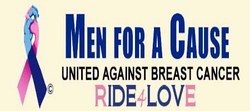 "Pala Casino Spa & Resort is proud to participate in the Ride4Love. We know that Men For A Cause will make a difference in the fight against breast cancer." - Bill Bembenek, Pala Chief Executive Officer
Cardiff By The Sea, CA (PRWEB) April 21, 2011
Men For A Cause United Against Breast Cancer announces the 2011 Ride4Love, the largest one-day motorcycle ride in Southern California designed to raise money and awareness in the fight against breast cancer. Scheduled to be held Saturday, Oct. 22, 2011, proceeds raised from Ride4Love will go to support breast cancer educational seminars and health screenings. Men For A Cause is seeking riders, corporate sponsors and volunteers, more information can be found by visiting http://www.ride4love.org .
Men For A Cause, United Against Breast Cancer™ is the first and only nonprofit organization founded to educate, motivate and empower men in the fight against breast cancer in both women and men internationally as survivors and co-survivors. Men For A Cause teaches men to better support the women they love when breast cancer strikes while teaching men they can get breast cancer too.
Ride4Love is challenging motorcycle enthusiasts, cancer fighters, breast cancer awareness supporters and survivors to take part in a grassroots awareness and fundraising event. The onsite registration will begin at the Handlery Hotel & Resort, 950 Hotel Circle North, 92108 San Diego, the day of the event at 8 a.m. The charitable ride is approximately 60-miles with the route running up Pacific Coast Highway 101 to highway 76 winding through beach communities, ending 1.5 hours later at the Beautiful Pala Casino Spa & Resort and concluding with a health and fitness expo, fund-raising auction and live music.
The donation to participate in the ride starts as low as $45 per rider. As a special thank you for supporting the event every Ride4Love participant will receive a free vacation package! The first 200 registrants receive UltraStar Cinema movie tickets and the first 500 participants receive a free Breast Cancer Awareness Flag Ride Patch. To date, Ride4Love sponsors include Men For A Cause, Pala Casino Spa & Resort, T.R. Miller Co., Inc., One Hope Wine, San Diego Harley Davidson, Cure Magazine and Ultra Stars Cinemas.
QUOTES
"It's a great opportunity for companies to sponsor this unique event by making a donation. Men For A Cause is focused on bringing men and women together in the fight for a cure. We already have some great sponsors who want to have their name associated with this charitable event and we are actively seeking others who care about this cause and want to join together in this fight."

Anthony May, Men For A Cause Founder & Cancer Co-survivor
"Pala Casino Spa & Resort is proud to participate in the Ride4Love. We know that Men For A Cause will make a difference in the fight against breast cancer."
Bill Bembenek, Pala Chief Executive Officer
"Join in and show your support for a very worthy cause…together we can make a difference!"
Tom Miller, President of T.R. Miller Co., Inc.
"ONEHOPE is thrilled to partner up with Men For A Cause for such a fun and unique event! There's nothing better than getting an entire community together to support and encourage one another. We hope to raise lots of money and awareness for those most deserving! Cheers!"
Kellie Skinner, One Hope Wine
"We are pleased to partner with the Men For A Cause for such an amazing event that truly highlights the persistence and admirable spirit of thousands joining together in the fight against breast cancer. Ride4Love funds can change lives of people who have been affected by breast cancer. We are proud of being a part of making a difference. "
Julie Bravo, VP for Advertising and Marketing
About the Men For A Cause
Men For A Cause is the only national 501(C)3 grassroots organization dedicated to educating, motivating and empowering men in the fight against breast cancer in both women and men. The organization aims to increase male knowledge and awareness of breast cancer in both women and men. Our goal is to provide essential education, solutions, resources and support to breast cancer patients, survivors and co-survivors. Men For A Cause focuses on men and their families with an emphasis on underserved and underdeveloped communities throughout the world. http://www.menforacause.org
To learn more about the event and to register please visit http://www.ride4love.org
###