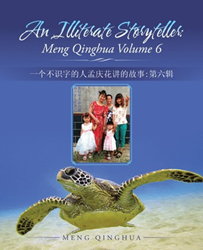 Good people leave good stories; good stories can give people good beliefs.
BINZHOU, China (PRWEB) September 09, 2015
"An Illiterate Storyteller: Meng Qinghua" (published by Partridge Singapore) is author Meng Qinghua's sixth book. It contains 60 stories that are told by author Qinghua, an illiterate woman, and are written by her 11-year-old daughter.
This fascinating collection of stores is drawn from a myriad of ancient Chinese legends and tales of reincarnation. Rich, insightful and overflowing with culture, the stories convey a message of interconnectedness between people, in which individuals are stringed along a thread they cannot see – a thread named reincarnation. It shares tales of celestial beings guiding the citizens of earth with their deep and ethereal touch. This omnibus of myths, truths and legends seek to engulf readers in an endless dome of imagination, leading them to think, connect and understand the world through a new perspective.
"Good people leave good stories; good stories can give people good beliefs," the author says. Through this unique and captivating compilation of tales, Qinghua hopes to direct readers into seeking a life that is good and honest, so that they may influence others to do the same.
"An Illiterate Storyteller: Meng Qinghua"
By Meng QingHua
Softcover | 7.5 x 9.25in | 626 pages | ISBN 9781482832631
E-Book | 626 pages | ISBN 9781482832648
Available at Amazon and Barnes & Noble
About the Author
Meng Qinghua is 41 years old. She cannot read, but can tell stories. This is the sixth book by her. This book is written by 11-year old Wang Sitong, Qinghua's daughter.
Partridge Singapore is a partnership between the Penguin Group, the world's foremost trade book publisher, and Author Solutions LLC, the industry leader in supported self-publishing, that aims to help writers in Singapore, Malaysia, and the rest of Southeast Asia become published authors. Partridge Singapore gives authors in the region direct access to a comprehensive range of expert publishing services that meet industry standards but are more accessible to the market. For more information or to publish a book, visit partridgepublishing.com/singapore or call 800 101 2657 (Singapore) or 1 800 81 7340 (Malaysia). For the latest, follow @PartridgeSG on Twitter.