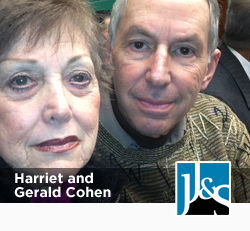 Baltimore, MD (PRWEB) November 14, 2012
A Maryland man still reeling from steroid injections from the New England Compounding Center added his voice to calls for tougher regulation of compounding pharmacies today, said his attorney, Robert K. Jenner, of Janet, Jenner & Suggs.
Gerald Cohen, 71, of Pikesville, described his ordeal, including a stroke, at a news conference in Washington D.C. prior to the start of a Congressional hearing investigating the national outbreak of fungal meningitis that has claimed at least 32 lives, Jenner said.
"Gerald and his wife, Harriet, have been dealing with the devastating consequences of Gerald's symptoms of fungal meningitis for months, but were adamant that they wanted to do what they could to be part of a solution," Jenner said.
"They wanted Congressmen and regulators to put faces to the suffering that NECC, by its flagrant disregard for the safety of its formularies, has subjected thousands of Americans to. In this way, they hope to make a difference in how quickly and effectively the compounding industry is brought under control," Jenner added.
Cohen received a steroid injection in August for a recurrence of back pain and immediately experienced nausea, stiff neck, fever and severe headaches, Jenner said. After a second shot a month later, the symptoms worsened to include weakness on the left side of his body and overwhelming fatigue, Jenner said.
Cohen was then notified by health officials that the injections he received had been prepared by the NECC, which had recalled all products for possible fungal contamination and was under investigation by the U.S. Food and Drug Administration for links to an outbreak of fungal meningitis, Jenner said. Shortly afterward, he suffered a stroke and was hospitalized, Jenner said.
"He went from an active retiree to a stroke victim in a few short months. He has to endure another excruciating spinal tap. He is still experiencing debilitating symptoms. He and his wife live in fear of what the future holds."
"The NECC must be held accountable for the suffering it has caused. The government must impose stricter safety standards on the compounding industry, and state and federal regulators must be given the resources they need to monitor and enforce these rules," Jenner said. The full text of Cohen's remarks can be found on the law firm's website.
About Janet, Jenner & Suggs, LLC
The law firm of Janet, Jenner & Suggs, LLC, is a nationally recognized law firm dedicated to representing victims of defective products, medical devices, prescription drugs and medical malpractice. Each of the firm's principals is named in The Best Lawyers in America® and Super Lawyers®. The firm has offices in Baltimore, Maryland (Commerce Centre East, 1777 Reisterstown Road, Suite 165, Baltimore, MD 21208; local phone number (410) 653-3200); Boston, MA; Columbia, SC; and Asheville, NC. The firm accepts clients and referrals from clients and attorneys throughout the country. For more information about NECC steroid injections contact the firm at (888) 463-3529.