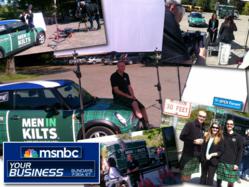 "We've been blown away by quality of entrepreneurs who are seizing the franchise opportunity in their markets."
Tressa Wood - CEO
Seattle, WA (PRWEB) June 25, 2012
Men In Kilts Window Cleaning franchise was featured on MSNBC's 'Your Business' this week. MSNBC recently flew a TV crew out from New York to their Seattle window cleaning operations. Men In Kilts demonstrated how they are using a little humor and a lot of professionalism to build their window cleaning franchise across North America.
Nicholas Brand (Founder) and Tressa Wood (CEO) are interviewed about the franchise, the business opportunities, it's history, and what it takes to build a world class company. "We have very sound business systems behind the fun brand" says Wood. "We're aiming to lead one of the most fragmented and overlooked industries in North America. Response from the MSNBC coverage has been fantastic, and we've been blown away by the quality of entrepreneurs who are seizing the franchise opportunity in their markets".
Brent Hohlweg (Co-Founder & Chief Brand Architect) says "It's been amazing, MSNBC started teasing the feature about a week ahead of airing, and we were fielding calls from across the country for everything from franchise territories, to people wanting to buy one of our famous "No Peeking!" T-Shirts.
On the 'Your Business' after show expert panel, Les McKeown, bestselling author of 'Predictable Success' and 'The Synergist', and Phil Town, New York Times bestselling author of Rule #1 say "These guys are deeper than the gimmick. They are focused on what's really important, that's delivering really good service." Town went on to say "They're keeping focused on the number one thing, which is getting good people in there, training them well, and then doing a killer job."
About Men In Kilts
Men In Kilts was started in 2002 by Nicholas Brand with $500, a squeegee and a hand-sewn kilt. The first franchise was opened in 2010 in Vancouver with Fraser Valley and Seattle soon to follow. Calgary and Victoria were the first franchises added in 2012, and Edmonton is scheduled to open next. Men In Kilts' commercial and residential services include:
window cleaning
gutter cleaning
pressure washing
exterior building cleaning
roof cleaning/moss removal
snow removal services will be available in all colder markets later this year
Men In Kilts plans for fast expansion into all major cities across North America, including Toronto, Houston, New Jersey, San Francisco, LA, and Denver. The company projects a 300 percent increase in system-wide revenue in 2012.
For more information on Men In Kilts, or to see them in action, please contact Melissa McAfee at pr(at)meninkilts(dot)com or visit http://www.meninkilts.com.
--high-resolution images available upon request--