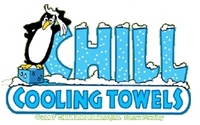 Initial consumer response has been overwhelming. Consumers love the fact that the towels do not need to be chilled and are genuinely amazed at how long the towel's cooling sensation lasts
Key West, FL (Vocus) April 23, 2009
CHILL International, Inc. announces the launch of a new menopausal cooling towel, which provides instant relief for hot flashes and night sweats. CHILL Cooling Towels are the new, 100 percent terry cloth cotton cooling towels pre-moistened with an all-natural, unique formula. Chill Cooling Towels are 20 to 30 degrees cooler than your body temperature right out of the package. They provide instant relief on contact anytime, anywhere. CHILL towels do not need to be refrigerated.
"Initial consumer response has been overwhelming. Consumers love the fact that the towels do not need to be chilled and are genuinely amazed at how long the towel's cooling sensation lasts," says Allan H. Wimer, Founder and CEO, CHILL International, Inc. "In fact, consumer tests indicate the cooling sensation lasts up to 2-3 hours depending on climate conditions." They are available in three sizes: 12 inch X 12 inch, 12 inch X 20 inch and a generous two square feet (12 inch X 27 inch) size.
CHILL Cooling Towels were tested with 20 menopausal women in a focus group in Miami, FL where the towels received a score of all tens, on a scale of one to ten with ten being the highest possible score, "It really works!" The cool towels effectively relieved hot flashes and night sweats and helped them immediately feel cooler. "It did what it needed to do."
CHILL Cooling Towels are hygienically sealed in individual packages and are designed for personal single use, are disposable or recyclable for other purposes after washing and are environmentally friendly.
The CHILL Towels have been introduced in many of Walgreens drug stores in Florida this spring with overwhelming customer response repeating the focus group findings "It really works, instantly." Many women feel that this is a very important and a unique advantage over home remedies.
In a recent email to CHILL amenopausal suffer wrote, "Dear CHILL: I wanted to let you know that I love the CHILL Towels!! They work!! I've been putting one beside the bed each night and when I wake up with the sweats and hot flashes, I open one up and put it around my neck, ahhhhhhhhhhhhhhh, instant relief!! I fall right back to sleep! It's wonderful…."
The CHILL towels have been endorsed by numerous menopausal organizations such as The American Menopausal Foundation. The menopausal towels may be purchased in many of the Walgreens stores in Florida or on line at chilltowels.com
About CHILL International, Inc.
CHILL International, Inc, manufactures and markets CHILL Cooling Sportowel and CHILL Cooling Towel and is headquartered in Key West, Florida - one of the hottest cities in the continental United States. CHILL Cooling products, currently undergoing patent application, have been in development and consumer tested in the rigors of hot and humid climates since 2004. For more information, please visit our website at http://www.chilltowels.com
###