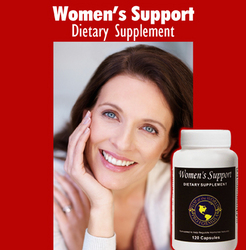 The need for a healthy and safe supplement to help control the frequently severe and life-altering impact of menopause led to the development of our Women's Support dietary supplement."
Union City, TN (PRWEB) November 10, 2010
Top of the World Distributors®, a leading supplier of health supplements and personal care items, is focusing on its popular Women's Support dietary supplement in an effort to promote a healthier lifestyle for women dealing with symptoms of PMS and various stages of menopause.
"Since menopausal issues play a huge role in every woman's life, we believed it was vital to develop an alternative choice without the side effects and risks associated with hormonal replacement therapy," states Lisa Roney, R.N. and President of Top of the World Distributors. "The need for a healthy and safe supplement to help control the frequently severe and life-altering impact of menopause led to the development of our Women's Support dietary supplement."
As women age, hormone levels fluctuate, causing changes in the menstrual cycle which eventually leads to menopause. Menopause usually begins around the age of 50, however perimenopause (the process leading to menopause) usually starts in the 40's but may also start as soon as the late 30's. This period in life can last from 2 to 8 years, varying from one individual to another. The symptoms can include irregular periods, hot flashes, night sweats, moodiness, difficulty sleeping, headaches, cognitive changes, decreased libido, weight gain, and fatigue. Other more serious symptoms may include heavy and prolonged periods, severe depression, high blood pressure and heart palpitations. Whether symptoms are mild or severe, Women's Support was developed to help alleviate their day to day impact.
Women's Support contains a combination of herbs including Black Cohosh, Dong Quai, Licorice, Red Raspberry, Red Clover and other powerful herbal supplements. Some of the ingredients in Women's Support contain chemical structures similar to human estrogen which helps correct hormonal imbalances. Other ingredients may stimulate or normalize the pituitary gland which in turn helps to regulate the balance of estrogen and progesterone in the body. Each herbal ingredient in this unique supplement has been proven to be effective in the treatment of symptoms before, during and after menopause.
The company also maintains a full line of women's dietary supplements including Evening Primrose Oil, Balance for Women multivitamins, and several topical creams that help treat PMS, menopause, and other hormonal Issues.
About Top of the World Distributors®
Top of the World Distributors® is the owner and distributor of the RaNisa Naturals line of health supplements and personal care items manufactured entirely in the United States. Founded in 1997 by Lisa and Randy Roney, this family-owned company offers over 200 products including vitamins, nutritional supplements, hair and skin products, weight loss formulas and personal care items. The company's flagship supplement, Calotren®, is one of the first all-natural collagen-based weight loss formulas developed in the United States. Top of the World Distributors is devoted to providing customers with top quality health care products, competitive pricing and a dedicated customer service department staffed with health professionals and nurses. The company's products are sold directly to consumers and through a network of retail and wholesale distributors worldwide. For more information, visit the company website at http://www.toploss.com.
###