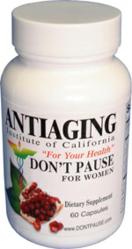 Los Angeles, CA (PRWEB) May 25, 2011
There may be correlations between menopause and diabetes, as discussed by Dr. Shoreh Ershadi, director of the ANTIAGING Institute of California. Studies have been performed to see if this may be the case, and there are a number of factors to take into consideration.
Hormonal changes occur in a woman's body during menopause and have a profound impact on the functioning of her system. Hot flashes, a common symptom of menopause, can wreak havoc with how a woman feels and even affect how she sleeps. Having restless nights can cause blood sugar levels to rise, as can weight gain, another menopause symptom. Dr. Ershadi recommends getting natural menopause relief through products that contain safe ingredients such as green tea and pomegranate.
There are natural menopause remedies on the market, and many women find themselves turning to these products in order to help their bodies function more normally during this stressful time. By using natural menopause supplements, women may be able to combat the troublesome symptoms that occur during menopause. Hot flashes and the tendency to gain weight can be decreased at this time. The risk of diabetes may be lessened with weight loss and exercise and blood Glucose fluctuations can be managed through Chromium Picolinate, which is one of the ingredients in DON'T PAUSE, an all natural product .
There are various natural menopause cures that do even more than handle the annoying symptoms of menopause. Brittle bones can be prevented with the use of natural products, and the loss of muscle mass can be controlled. Women may find their sex drives waning at this time due to vaginal dryness, another problem that can be helped with natural menopause remedies.
By using a safe menopause treatment that carries no side effects, women can help themselves in many beneficial ways. They can look and feel better and assist their bodies in working more efficiently, thus decreasing the chance of developing medical conditions such as diabetes.
Menopause can be a difficult time, but with the help of a natural menopause remedy, symptoms can be alleviated. There are many health benefits to be obtained through natural products, and women may find sensations such as hot flashes decreasing to the point of disappearing.
To learn more about how menopause can affect your body and conditions such as diabetes, visit http://www.naturalmenopausetreatmentguide.com. You may also call the ANTIAGING Institute or California at (310) 858 7006.
PR by http://www.seocompanyca.com
# # #