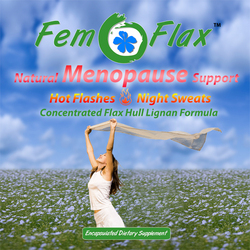 This thing is already on the verge of life-altering, why jump to life-threatening?
Belgium, WI (PRWEB) May 4, 2010
John never considered himself to be an expert on women's health, especially in regard to menopause treatments or symptoms. However, for the past several years he has been totally absorbed with the topic and has been in pursuit of a safe and effective, all-natural means of supporting women suffering from hot flashes and night sweats.
It all started several years ago when his wife, Debbie, began suffering from the occasional, albeit irritating bout with hot flashes and night sweats. It wasn't long though before these episodes became much more regular and pronounced.
John realized "She was hardly sleeping at night due to night sweats, and with fifteen or more hot flash episodes per day, these menopause symptoms were really beginning to take a toll on her."
Like so many couples before them, they sought out explanations and possible treatment plans, John through intense Internet investigation and Debbie through consultations with the family physician.
Almost immediately, they disregarded the use of hormone replacement therapy (HRT) and bio-identicals, due in part to Debbie's family history, her age – but most importantly, the increased risk of heart disease and cancer. John summed up the general feeling at the time; "This thing is already on the verge of life-altering, why jump to life-threatening?"
Following the shift away from HRT "we tried almost every kind of natural menopause treatment plan, potential cure, or over-the-counter menopause support imaginable, but nothing seemed to work or was considered safe for long-term use" said John.
Vowing to move forward and realizing that menopause sufferers can easily display hot flash and night sweat symptoms for ten years or more, John eventually stumbled upon a small and not so widely publicized study done several years ago on a group of Minnesota women, using flaxseed.
Intrigued by this finding, John said "Finally, a prestigious and well-recognized research facility, The Mayo Clinic, has hit upon an all-natural, plant-based (flaxseed) treatment plan that actually seems to diminish the hot flash and night sweat symptoms associated with menopause!"
While showing promise, some health care professionals considered the Minnesota trials to be inconclusive. Concerns remained relating to excessive fiber, dose delivery, potency and over-all effectiveness.
Working tirelessly with nutritionists, health care professionals, chemists, laboratory analysts, growers and manufacturers, John was eventually able to isolate an all-natural, highly concentrated, flax-based product with seven to ten times the hot flash and night sweat stopping power than that administered to the Minnesota test group.
John's new product brought Debbie complete night sweat and hot flash relief within three days. While Debbie's symptoms may have been categorized as severe (with as many as fifteen to twenty hot flash and night-sweat episodes per day/night) Debbie is hot flash and night sweat free, and has remained so for more than a year (without altering the dose).
What started as a love story and a real desire by a husband to see his life-mate of twenty-five years free of oppressive menopause symptoms, eventually evolved into a family business. The brand name FemFlax™ was later decided upon and the product offering has been trademarked (using this name) for use in the U.S. and abroad.
Debbie continues her FemFlax™ regimen, as do many other women seeking relief from (menopause related) hot flashes and night sweats.
John recently remarked; "It's strange in a way, thinking back about how this thing evolved…the best thing, by far though, has been the look on my wife's face and fact that she is comfortable and enjoys life again…that and the knowledge that we are helping so many other women to do the same."
If you want to learn more about the hot flash and night sweat stopping power of FemFlax™, please visit: http://www.femflax.com.
Connor Stevens, Marketing Manager
Cool Products, LLC
PO Box 132
Belgium, WI 53004
Phone: (877) 758-3327
# # #