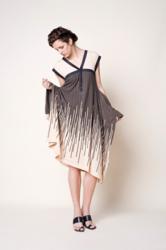 Weddings are a great excuse to buy a fun new dress
San Francisco, CA (PRWEB) May 08, 2012
Wondering what to wear to all those upcoming evening spring weddings? Skunkfunk saves the day—and night—again, with sophisticated dresses from its higher-end skfk line that will have evening spring wedding guests looking comfortable and polished in fiercely fitting silhouettes cut from eco-friendly fabrics.
"Weddings are a great excuse to buy a fun new dress," says Kyle Retzik, owner of Skunkfunk North America. "Skunkfunk's large variety of fun and sophisticated stand-out dresses ensures no one else is going to wear the same outfit and gives ladies a reason to twirl with confidence on the dancefloor."
Here are four of Skunkfunk favorites from their skfk line, which can be purchased online at http://www.shopskunkfunk.com:
The architecturally inspired Izarra dress effortlessly combines comfort and style. This cool piece is complete with slouchy oversized pockets that create just the right shape and a contemporary pattern that adds a flawless amount of flair. A modest V-neck, tiny buttons up the front and fabric edging are details to die for and make the Izarra perfect for any occasion. The Izarra is also available in black.
The Mariadam is a flowy polyester short-sleeved dress featuring darling spring colors, a geometric floral pattern, and an asymmetrical neckline with a cut-out strap on the left sleeve. It comes with a matching belt and hangs perfectly to flatter any figure. Look and feel like the life of the party in this fabulous frock paired with girly T-strap sandals from the same color family and simple jewel-toned accessories.
A versatile tank dress made from cotton with a hint of stretch, the Lilian is fit for any fête with a funky square neckline and a gorgeously gathered skirt. Zip-closure pockets add extra comfort and a zipper detail on the bust keeps this dress balanced. Look lovely in the Lilian with modern wedge sandals and playful accessories for an extra pop of style.
The elegant Ega dress is a brilliantly designed piece that stands out on its own. A structured bubble skirt with bold pleats and modern lines make this forward-thinking dress flirty but sophisticated. Decorative straps stitched from the shoulder to the waist accentuate and elongate the torso. Skunkfunk says shiny metallic sandals are the finishing touch to this chic outfit.
This fabulous wrap frock features a tulip skirt, cowl neckline and cap sleeves for a flattering finish. Be the most fashionable guest at the party by adding a pair of bright tights and pretty pumps for a sharp spring look. Available in grey, the Aloise is made from a comfortable blend of polyester and rayon.
Skunkfunk offers urbanites eco-friendly fashion, including convertible clothing that can be instantly redesigned for different looks and occasions. The Spanish-born purveyor of fine clothing is applauded for its eco-friendly fabrics and ethical distribution practices that harmonize with the environment.
Skunkfunk works hard to bring positive change to three areas of the fashion industry: people, planet and prosperity. Textiles are carefully chosen based upon their impact to the environment, and include recycled polyester, organic cotton, and Lyocell.
RECYCLED POLYESTER
Polyester comes from crude oil, a natural scarce resource with a low renewability ratio. Recycled polyester is processed in a less energy intensive way than creating virgin fibers, and it's a perfect option to give a second life to post-industrial remains or post-consumer plastic waste.
ORGANIC COTTON
Organic Cotton is a natural fiber cultivated without the use of synthetic chemicals, such as pesticides or fertilizers, and is not genetically modified.
LYOCELL
Lyocell is a light and silky textile made from regenerated cellulosic fiber that comes from eucalyptus wood pulp. The biodegradable fiber is extracted under a sustainable closed-loop process that saves energy.
For more information about any of Skunkfunk's products, call (415) 401-7983, go to shopskunkfunk.com, or visit one of their three stores located at 1475 Haight Street (Haight-Ashbury) and 302 Valencia Street (The Mission) in San Francisco or 181 Orchard Street (SoHo) in New York City.
About Skunkfunk
Skunkfunk is a Spanish-born New York and San Francisco clothing store that specializes in environmentally-friendly women's, children's and men's clothing. Shop online or in person at Skunkfunk's stores in San Francisco, New York City and various European cities. Their clothing can also be found in multi-brand stores throughout the United States.
As one of the leaders in eco-friendly clothing, Skunkfunk believes that environmental and social concerns go hand-in-hand with fashion. That's why Skunkfunk's stylishly bold European-influenced designs are made mostly from sustainable textiles and shipped in recycled and biodegradable packaging.
Skunkfunk collaborates closely with talented artists, musicians and illustrators from across its base in Basque Country, north of Spain, to create forward-thinking pieces full of color and multi-concept designs. Focused on comfort and versatility, many of Skunkfunk's items are reversible or adaptable, such as skirts that morph into shirts and shirts that morph into dresses.
Browse the Skunkfunk site for information about their sustainable practices, where to buy Skunkfunk in the U.S. and Canada, their blog where they repost what others are saying about them, and visit their online store.