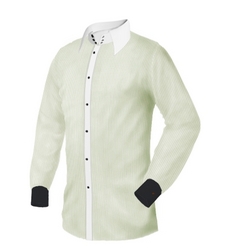 Hong Kong, Copenhagen (PRWEB) February 3, 2009
On the newly launched website, ShirtsMyWay.com, men's custom dress shirts can be designed to such an extent that it results in over 7 trillion different dress shirts.
With an advanced shirt model, users of the platform can design and buy their own fitted dress shirts with an unprecedented amount of options.
The Danish founders Michael Yang and Peter Crawfurd say that "our main focus is actually not on offering trillions of men's custom dress shirts, but making the process of buying and designing them fun, simple, and fast by using our interactive shirt model and free global delivery offering. That said, a high quality level is also a top priority."
Trendy Customization:
ShirtsMyWay makes an evident effort to be among the more trendy custom men's dress shirt companies and offers features such as the 'cocktail cuff' (aka James Bond cuff), the bold three button dress shirt collar, and fresh fabric designs. Nevertheless, more traditional and classic features of men's custom dress shirts are also available in order to design shirts for all occasions.
Together with the personalized design, ShirtsMyWay also offer their custom made dress shirts with a made to measure option to ensure a great fit. The result is a dress shirt that has an incredibly high chance of being a favorite for the customer as the style and fit will be dictated by himself.
Start designing a dress shirt by visiting ShirtsMyWay.com.
###