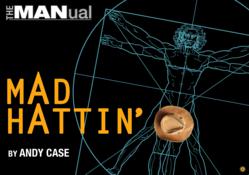 Your choice in hat can make a statement - it is an accessory that can make or break any outfit.
Easton, PA (PRWEB) May 27, 2013
The all-new Cigar Advisor is an online cigar magazine that brings a fresh, irreverent, and down-to-earth perspective on all things cigars to thousands of smokers. In addition to educational cigar content and behind-the-scenes cigar industry articles from some of the business's top names, Cigar Advisor delivers an array of content about a variety of topics of interest to people who enjoy the cigar lifestyle. The magazine also features cigar reviews and ratings submitted by real smokers. Cigar Advisor has just published their monthly men's style column by contributor Andy Case, titled "the MANual" – this installment is a buying guide for men looking for the best hats.
The May MANual, titled "Mad Hattin'," details some of the more popular styles of men's hats today – and offers some guidance on matching the hats to a man's style, along with suggestions for proper identification and wear. "With so many styles to choose from," Andy writes, "you're bound to find the one that fits. You have the opportunity to bring old looks back and establish one of your own." Case goes on to describe, in detail, the characteristics of hats such as fedoras, pork pies and Kromers. "Each one has a place on your hat rack; find the right one for you, then see why a properly worn hat will never go out of style."
In addition to a callout of the classic American baseball cap, Case states that the hat has a place to be worn no matter what the occasion. Therefore, "Your choice in hat can make a statement - it is an accessory that can make or break any outfit." He then goes on to detail his dos and don'ts of making the right choice, based on personal cues of a man's clothing preferences. The most important piece of advice, he offers, is "to find the right one for you. Don't force it; your choice of hat should fit your style, personality and appearance."
About Cigar Advisor Magazine
Cigar Advisor magazine is a digital publication created for real cigar enthusiasts who love tobacco and live the lifestyle. Cigar smokers are passionate about almost everything they do - whether it's the drinks they savor, the food they devour, the cars and motorcycles they dream of, the sports they're fanatical about or the women they love, Cigar Advisor shares those passions with a razor-sharp edge, soaking up each day and experience as if it were our last. Find that passion and more on display at CigarAdvisor.com.