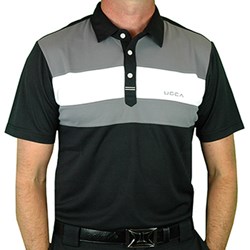 Introducing the Best Men's Golf Apparel to Hit the Sports Fashion Market at an Affordable Price, Courtesy of the Imaginative and Creative Minds at UGCA Golf
Nationwide (PRWEB) February 20, 2014
For those players who love the game and want to look their best, there's a new line of men's golf apparel which is now affordable, yet distinct, thanks to UGCA Golf, the latest name in men's golf dress shirts and men's golf hats in the nation.
Players want to be comfortable and look great when they play, and looking the part is something that some courses demand of their patrons, "Dress codes vary in strictness depending on the policies of the golf course that you are playing. A good indicator of whether there is a dress code is the price of the course you plan to play. The higher the greens fees, the more likely there is to be a dress code for golfers. In general, a collared shirt and Dockers-style shorts or slacks will get you onto most golf courses," explains Brent Kelley, a sports journalist who has covered golf for more than two decades, at newspapers, magazines and online.
Playing the game of golf is more than just perfecting a swing and mastering each club in the bag. The game itself has a rich tradition of fashion, and there's no better company to showcase that tradition because this apparel manufacturer combines sophistication with the underground lifestyle. The result is a smart, yet eclectic blend and these shirts are just right for the course, casual dining, or travel. Comfort is coupled with function, and these shirts deliver on both, like no other brand on the sports apparel market today.
"Currently, there are ten polo shirts in the UGCA Golf family line, which include: the Kensington, Highgate, Colindale, Stockwell, Stratford, Wembley Park, Richmond, Kings Cross, Greenwich, and the Dollis Hill. All are made from 100 percent Polyester with moisture wicking performance using light to medium weight fabric."
For more information about mens golf apparel, or mens golf dress shirts, as well as mens golf hats, please contact UGCA Golf by phoning 951-805-5611, or via email to the address located within this releases contact information. UGCA Golf is a wonderful combination of one of the most challenging games in the world, and the underground lifestyle. The company passionately pursues its goal, working hard to ensure its customers have an unreal look on or off the course.