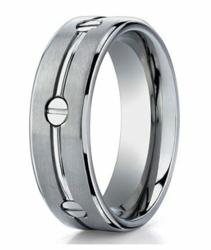 Since the company began just over six years ago, the owners devoted most of their time to building an incomparable inventory of fashion rings for men and designer men's rings.
Jensen Beach, FL (PRWEB) February 15, 2012
The St. Patrick's Day Sale at JustMensRings.com will feature an impressive assortment of fashion rings for men and designer men's rings, including many of the latest collections. Recent additions to the JMR inventory include designer men's rings in palladium, Argentium silver, black seranite and diamond wedding rings. Precious metals like gold, platinum and palladium are also featured throughout the website. Fashion rings and alternative wedding bands include rings made from sterling silver, titanium, tungsten, stainless steel and cobalt chrome. When shoppers find this retailer, they usually find exactly what they're looking for at the right price.
"Our male customers may start their search by looking for a plain gold band, but once they see the variety of designer men's rings, they tend to change their minds," says co-owner Roy Devine. The retailer is known for their unparalleled selection of stylish designer wedding bands and fashion rings for men, as well as their low everyday prices. While St. Patrick's Day may not be a gift-giving holiday, the beginning of spring is a time when couples are finalizing their wedding plans. JMR is offering terrific prices on a number of popular men's rings just in time for the start of the spring wedding season.
Asked about what makes customers so loyal to JustMensRings.com, co-owner Judy Devine often says that "Men want to spend as little time shopping for jewelry as possible and our site makes it easy to find exactly what they want without ever leaving home." Not only does this ecommerce store sell a wide range of metals and styles, they also have designer men's rings and fashion rings for men in larger sizes, with many rings available through size 20. Their everyday prices are so much lower than other men's ring retailers; it would be hard for men to justify shopping elsewhere for a ring.
Excellent customer service, an incredible selection, and unbeatable prices have helped JMR carve out a niche within the men's jewelry industry, and their enhanced collection of designer men's rings is just one example of this. In addition to offering the latest metals and styles to match every man's taste, JMR has expanded their collections of fashion rings for men. Looking at the latest collections of men's wedding bands and rings, the JMR St. Patrick's Day Sale is certain to be a success.
After only six years in business, JustMensRings.com has grown its customer base beyond the United States to include several countries around the world. Their loyal and satisfied customer base has continually grown over the past few years because men have an easy time finding what they want at this retailer. Not only do they update their selection on a regular basis, JMR offers more competitive prices and greater size availability than any other men's jewelry web site. In addition to designer men's rings and top quality wedding rings, their selection of fashion rings for men is second to none.
About JustMensRings:
As an Internet-only retailer, JustMensRings.com is dedicated to providing a simple and secure online shopping experience. This is one site where customers know they are getting the best possible prices on an extraordinary selection of men's rings. JMR's customers have come to expect high standards of service, selection and quality when they shop at JustMensRings.com. In fact, Just Men's Rings (JustMensRings.com) now offers the largest selection of men's fashion rings on the Internet, and they are the only store in the U.S. that offers men's large size rings through size 20. They also lead their competitors with an unparalleled assortment of unique and alternative men's wedding rings, and JMR is known for their very low prices on men's gold rings. Despite the recent rise in gold prices, JMR keeps their prices low and affordable, and shoppers won't find better prices on gold, silver, tungsten, titanium and other popular metals.
###