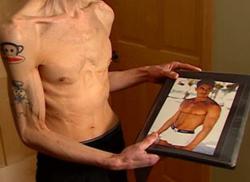 Men hate admitting they have a problem, especially one that is strongly associated with women.
San Francisco, CA (Vocus/PRWEB) March 17, 2011
Eating Disorders have been most often associated with women of all ages, but an increasing number of men are caught in our society's pressure to be fit and thin. What may start off as a diet or exercise regime may become a full blown eating disorder as young men seek to feel in control of their bodies and their feelings.
"Men are more reluctant to admit losing control," said James I. Hudson, lead author of the first comprehensive, nationwide study on eating disorders, which was conducted by Harvard University. The study, which examined a population of nearly 3,000 adults, found that 25% of those with anorexia or bulimia and 40% of binge eaters are men.
Hudson believes that the stigma associated with male eating disorders remains a formidable barrier to their treatment. "Men hate admitting they have a problem, especially one that is strongly associated with women. The fear of seeming unmanly prevents males from finding treatment for an eating disorder. Even when they do seek help, many eating disorder programs only admit women."
At Casa Serena men 14 years of age and older are included in their Intensive Outpatient treatment program. Both adult men and male teenagers can address the underlying issues and change the destructive behaviors that drive the obsession with food, weight and body image.
Groups are designed to address issues of body image, nutrition education or with relationships and family; they are supplemented with individual and group sessions as part of Casa Serena's individualized program. Each client will set and achieve daily objectives in their goals and contract group. Collectively, clients create a strong support system when they connect with their peers at a weekly community meeting.
For more information regarding male disordered eating, call Jackie Holmes, Program Director of Casa Serena at (925) 682-8252 and inquire about their Summer Teen Program, or visit their website at http://www.casaserena-eastbay.com.
About Casa Serena:
Casa Serena is a San Francisco [East Bay eating disorders treatment center located in the heart of Contra Costa County in downtown Concord. The Casa Serena intensive Outpatient Treatment program provides a safe and supportive environment for people 18 years of age and older who are suffering from Anorexia, Bulimia, and binge eating disorders to gain the necessary tools to better understand and heal from their disorders. The East Bay eating disorder clinic is conveniently located a block and a half from BART, near the 680 N and 242 Interchange.
# # #