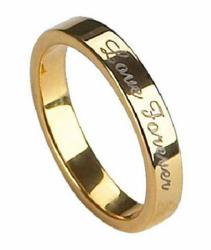 JustMensRings' Valentine's Day Sale offers deep discounts on romantic gifts appropriate for relationships at any stage, including men's wedding bands, designer rings and jewelry for men.
Jensen Beach, FL (PRWEB) January 08, 2013
Shoppers looking to save on the perfect Valentine's Day gift are in luck: JustMensRings.com (JMR) has just commenced its annual Valentine's Day Sale. With hundreds of deeply discounted styles now on offer, there is truly something for everyone: men's wedding bands for the recently engaged, anniversary rings for husbands, men's love and sweetheart rings for long-term couples and jewelry for men for newer romances.
Valentine's Day is little more than a month away, and savvy shoppers are already stocking up on their favorite designs to avoid any last minute rush in February. Everyday low pricing is nothing new at JMR, but the Valentine's Day Sale has further reduced pricing on over 600 styles of designer men's rings, wedding bands and jewelry, for price tags that are well below wholesale. For the first time ever on the JustMensRings site, all sale items also enjoy free shipping across the United States.
One of the most popular items in the Valentine's Sale section has proven to be men's love and sweetheart rings. Often engraved with romantic words or phrases like "forever love," "only love you" or "my one and only," these decidedly romantic bands make for great pre-engagement rings and promise rings. Claddagh rings, a form of Celtic jewelry that feature an instantly recognizable motif of two hands clasping a crowned heart, are also a sought after sweetheart ring for new and old romances alike.
Of course, men's wedding rings are also one of the primary picks for customers shopping the JMR Valentine's Day Sale. For couples who became engaged over the holiday season, Valentine's Day is often an ideal time for brides to present their husbands-to-be with their wedding bands. JustMensRings carries the U.S.-based designer brand Benchmark exclusively, and there are a significant number of Benchmark styles on sale to choose from, including men's rings in precious metals like gold, platinum and palladium, diamond rings, and bands in affordable contemporary materials like titanium, tungsten, cobalt chrome, Argentium silver and ceramic (Seranite). For the more budget-conscious, there are plenty of affordable men's rings and jewelry items to choose from as well, with many styles starting under $20.
"While the focus is generally on women on Valentine's Day, men also love getting romantic gifts," notes JustMensRings' president and owner Roy Devine. "JMR's Valentine's Sale section is meant to take the guesswork out of finding the perfect Valentine's gift for him."
The JustMensRings' Valentine's Day Sale includes men's wedding bands, anniversary rings, designer rings, men's love and sweetheart rings and jewelry for men. This seasonal promotion is for a limited time only and only while supplies last; customers are encouraged to shop early to secure their desired items. In addition to the seasonal discount pricing and free shipping associated with this promotion, JMR offers a 30 day money back guarantee on all items as well as a lifetime guarantee and free engraving for all designer rings for men.
About JustMensRings.com
At internet-only retailer JustMensRings, customers have come to expect the best possible prices on an extraordinary selection of men's rings, as well as the highest standards of service, selection and quality. The proof is in the numbers: JMR now offers the largest selection of men's fashion rings online, and is the only store in the United States that offers men's large size rings up to size 20. JustMensRings leads the competition with an unparalleled assortment of unique and alternative men's wedding rings in a range of traditional and contemporary materials including gold, platinum, palladium, titanium, tungsten, silver, stainless steel, cobalt chrome and Seranite (or ceramic). Despite the recent rise in gold prices, JustMensRings continues to keep item pricing low and affordable, and shoppers would be hard-pressed to find better deals elsewhere. JMR is dedicated to providing its customers with a simple and secure online shopping experience, and offers a 30 day guarantee and free shipping on all orders over $99.
For more information on JustMensRings, please visit http://www.justmensrings.com.