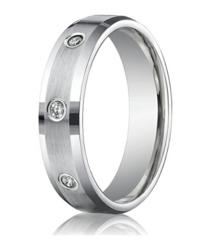 After only a few years of applying their integrated digital plan to the success of this online retailer, Nevil and his team at SEO Expert India are well-versed in selling men's jewelry.
Jensen Beach, FL (PRWEB) February 23, 2012
As a leading retailer focusing on men's fashion rings, designer rings and wedding jewelry, JMR was searching for an experienced digital marketing pro to lead the SEO for their ecommerce website. After interviewing several companies, JMR owners Roy and Judy Devine retained the services of SEO Expert India to help them become the number one online destination for men's rings. Since then, the website has risen in the rankings quickly, achieving page one results for their most important keywords while gaining market share against competitors.
SEO Expert India is a digital marketing agency, consistently delivering exceptional results by providing their clients with a range of innovative digital marketing solutions that are uniquely tailored to their goals. Focusing on their client's business goals, their staff immerses themselves in a company and its brand to forge an enduring partnership, one that goes beyond the traditional supplier-client relationship. Throughout the life of these partnerships, the Internet marketing team at SEO Expert India is at the disposal of their clients to help them plan and implement a strategy for digital success.
A full-service approach to digital marketing has helped SEO Expert India become the partner of choice for some of the world's leading online businesses. Their clients appreciate the return on investment that they get from their marketing dollars as well as the quality of their work and attention to detail. As a true partner to companies like JustMensRings.com, Nevil Darukhanawala and his team at SEO Expert India continually research evolving trends in digital marketing to ensure they deliver reliable results. Each client has different objectives with their digital strategy, but Nevil and his team treat them all like valued business partners. SEO Expert India formulates a customized cutting-edge optimization plan that gives business owners an edge over the competition.
When potential customers ask why they should hire SEO Expert India, Nevil and Kinjal point to the firm's proven track record of creating value for clients. After nearly a decade in the business, 100+ satisfied clients will testify to the value created by SEO Expert India and their marketing tactics. They also point to the long-term partnership approach that allows Nevil and his team to form strong working relationships and become a part of a company's growth story. Whatever their clients' goal – increased visibility, market penetration, conversions, engagement or profit - the team at SEO Expert India is extremely focused on ROI.
As JMR owner Roy Devine will attest, the most precious asset of SEO Expert India is their cutting edge proprietary strategies. By staying current with the continuously evolving developments in Internet marketing, the company continues to deliver superior results for their clients. The team of marketing pros led by Nevil Darukhanawala refines their marketing campaigns constantly in order to dynamically sustain results and ensure consistency over time. This approach has proven to be the recipe for JMR's success and will undoubtedly provide similar results for online businesses around the world.
About JustMensRings:
As an Internet-only retailer, JustMensRings.com is dedicated to providing a simple and secure online shopping experience. This is one site where customers know they are getting the best possible prices on an extraordinary selection of men's rings. JMR's customers have come to expect high standards of service, selection and quality when they shop at JustMensRings.com. In fact, Just Men's Rings (http://www.JustMensRings.com) now offers the largest selection of men's fashion rings on the Internet, and they are the only store in the U.S. that offers men's large size rings through size 20. They also lead their competitors with an unparalleled assortment of unique and alternative men's wedding rings, and JMR is known for their very low prices on men's gold rings. Despite the recent rise in gold prices, JMR keeps their prices low and affordable, and shoppers won't find better prices on gold, silver, tungsten, titanium and other popular metals.
About SEO Expert India:
SEO Expert India is the brainchild of Nevil Darukhanawala and his wife Kinjal Darukhanawala. They started SEO Expert India in Feb 2008 and today, it is a 27 member team with clients from USA, UK, Canada, Dominican Republic, Australia, India and the Middle East. Nevil Darukhanawala is a digital marketing expert with over 10 years of experience in conceptualizing Internet marketing strategies, SEO/SMM, and digital content solutions for various brands and online businesses. He has studied SEO from a very reputable and internationally known organization and is constantly striving to come up with new strategies to help his clients succeed. Kinjal is a Content Specialist and Copywriter with over seven years of experience as team leader and project manager. She has managed content projects for varied industries, such as health, lifestyle, travel, fashion, real estate, etc. Currently she is managing the content team of SEO Expert India.
###