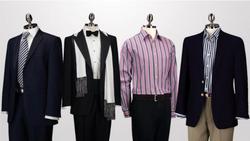 (PRWEB) December 26, 2009
Research conducted on behalf of Charles Tyrwhitt has found that men's shirts and ties are the most frequently bought items of menswear.
The researchers asked nearly two thousand respondents to rate how often they bought keystone items of menswear, and found that whilst almost a quarter of men claimed to never buy cufflinks, the vast majority of men do buy more than two shirts every year.
The majority of men buy one suit per year, with only a very small percentage claiming to buy more than two suits per year, and likewise the majority of men claim to buy one pair of shoes per year, though a sizeable percentage of respondents claimed to buy two, or more than two, pairs each year.
Despite the fact that the percentage of workers who always dress smartly for work has dropped over the last five years, the research found that almost half of respondents buy casual office clothes just once, or never, each year.
In addition, even though the percentage of men who always wear a tie to work has dropped over the last five years, the research found that the majority of men bought two, or more than two ties each year.
Using shirts and ties to refresh a business wardrobe makes perfect sense, and in these more austere times the city, and other workplaces throughout the UK, have seen the reintroduction of minimal, clear-cut attire. Sales of white shirts have boomed during the recession, with men now choosing to convey their individualism through patterned ties matched with plain white shirts, rather than through garish, decorative shirts.
The flexibility of a plain white shirt isn't just thanks to the ease with which it can be matched to a decorative tie, but also in the jacket that it is paired with. A crisp white shirt beneath a dark jacket, matched perhaps with a dark tie, exudes a certain classic style – simple but never less than effective.
###