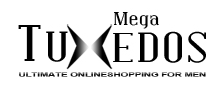 Los Angeles, CA (PRWEB) July 09, 2012
For some of life's most important occasions, every man deserves to look and feel his best with a great outfit. While most individuals have undergone shopping for clothing countless times, not everyone has taken on the task of finding cheap men's tuxedos that look great, fit comfortably, and do not cut corners on quality or appearance. This is why one trusted retailer, MegaTuxedos.com, is now offering some of the most fashionable and affordable wedding tuxedos at great prices just in time for wedding season.
All men need to have a tuxedo in their wardrobe for events ranging from weddings and proms to formal dinners and social gatherings. With the number of options and prices available, the purchasing process can become complicated. Now, more men than ever are turning to Megatuxedos.com in order to find the formal wear they need at a price that will fit any budget.
MegaTuxedos.com has quickly become one of the leading retailers due to their focus on quality, style, and prices. They offer a full line of formal apparel including prom tuxedos, groom tuxedos, white traditional tuxedos, and more. Men can quickly search through all of the various styles and designs, broken down by colors, occasions, or the overall cut of the tuxedo.
For those that would like to make their purchase with confidence, this company is now offering all customers a satisfaction guarantee on all of their products and has recently received its accreditation from the Better Business Bureau. This means black tuxedos, boy's tuxedos, and some of the most essential accessories will be of only the highest quality and the most current styles.
Finding a great tuxedo is a process that every man will have to go through at some point in his life, but this does not mean that it must require an overwhelming amount of time or money. With huge discounts offered just in time for the prom and wedding season, men can now find the outfits they need at MegaTuxedos.com.
Visit http://www.megatuxedos.com to browse their inventory of men's tuxedos. You can call (877) 526-7337 for more information.